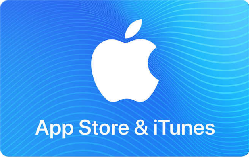 If you are an Apple device user, this deal is for you. Costco is selling $25, $100, and $200 iTunes Gift Cards for up to 17.5% off. iTunes is a digital and media store that allows you to make purchases for downloadable songs, games, videos, and more. Apple users use the iTunes store to follow great artists and even pay for subscriptions like HBO NOW, Netflix, and Spotify. This iTunes gift card is perfect for saving on simple purchases online and is definitely a deal worth looking into.  This limited deal is only available to Costco members. Before buying your iTunes gift card, be sure to log into your Costco account before buying! This deal is not going to be around forever and will be expiring 2/10/18. Make you purchase before it's too late!
iTunes Promotional Gift Card:
Promotion: Buy iTunes $25, $100, or $200 Gift Card for up to 17.5% off
Availability: Costco Members Only. (Locator)
Expiration Date: 2/10/2018
Limit: 2 per member
Terms & Conditions: Buy iTunes $25, $100, or $200 Gift Card for up to 17.5% off from Costco. E-Gift Card only Available.
Final Verdict:
If you use iTunes for your Apple Device media purchases, be sure to take a look at this deal. This iTunes Gift Card gives you access to credit that will allow you to buy music, videos, movies, games, and much more. One of the best features this iTunes gift card gives you is access to pay for subscriptions like HBO NOW, Netflix, and Spotify. Costco is only offering this iTunes gift card deal to Costco members. If you have a Costco membership, before purchasing the iTunes Gift Card, be sure to log in to your account first to see the available discounted gift cards. This deal expires 2/10/2018 so be sure to purchase it before it is too late! If you like this type of deal, be sure to check out our full list of Gift Card Bonuses.
---
Discover it® Miles
is a miles reward card with no annual fee! Receive triple miles your first year of ownership and get a $50 bonus when you use our referral link!
Apply Now -- 
Review
---
American Express Blue Cash Card
is the perfect card to help for those who rack up spending at grocery stores and gas stations. Earn 3% cash back at all qualifying US Supermarkets and more! Be sure to sign up using our referral link to become eligible for their $200 referral bonus!
Apply Now -- 
Review