Maximum Savings eBay Gift Cards:
For a limited time eBay has eBay gift cards via Paypal Digital Gifts available $100 for $95. Limit 1 per account.
Sign up for eBay Bucks for up to an additional 2% back.
Go through InboxDollars($5 sign-up bonus) to earn 5% cash back for eBay shopping. However, the terms excluded eBay gift cards but go through them anyway.
Add eBay Gift Cards from Paypal digital gifts. Maximum 1 – $100 gift cards.
Use an Ink Plus Card to earn 5X Points.
Math: $100 eBay gift cards – $5 savings – $2 eBay bucks – $5(500 UR points) = $88 actual payment
eBay Gift Cards Review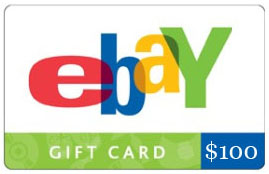 Buying eBay gift cards, especially at a discount, is a great way to stretch your dollar in order to buy millions of gifts on eBay including gift card deals. Even if you don't know what you want to buy yet, eBay gift cards is the perfect card to save on future purchases on eBay.com. With an eBay gift card, you can go further by buying other discounted Gift Cards and save as much as a 25% off discount on your favorite shops. Examples of the most popular brands include iTunes, Sephora, Domino's and many more. You can even save further by going through cash back portal such as TopCashBack and sign up for eBay bucks for additional savings.
eBay Gift Cards Quick Summary:
Availability: Online resellers, retail stores, eBay
Additional Savings: Sign up for eBay bucks for 2% back. Then use cash back shopping portals such as TopCashBack, Ebates, Fatwallet, Mr. Rebates to get up to 5% cash back more.
Shopping Tips: Use eBay gift cards to buy other store gift cards whenever they go on sale. Check out our current list of Discounted Gift Cards on eBay.
Highest Denomination: $200
Where To Buy eBay Gift Cards:
Final Verdict:
We strongly recommend you buy eBay gift cards whenever there is a deep discount. Just know that eBay gift cards give you unlimited shopping possibilities for millions of items on eBay. You can these cards for just about anything on the site. However, know that no more than a total of $500 in Gift Cards may be redeemed per eBay purchase. and you are limited to redeeming $5000 in eBay Gift Cards in any 180-day period. Check back this page to see all the current discounts for Buying eBay Gift Cards!