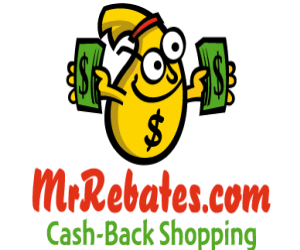 Mr. Rebates Cashback Rewards Offer
Mr. Rebates Cashback Rewards is a great way to earn cash back if you tend to go shopping a lot. This website will allow you to shop on websites ranging from American Eagle to even Dell Home. It allows you to shop up to 2,500 stores! Once you sign up, you will receive a $7.50 bonus after your first purchase if you use our referral website. All you have to do is click on a store and you will receive your percentage cash back for purchases you made for that store!
Application Link
Mr. Rebates Cashback Rewards: Click this link here to shop at Mr. Rebates to earn cash back!
Mr. Rebates Cashback Rewards Features
Receive $7.50 bonus after your first purchase
Cash back shopping at 2,500 stores
Accounts are completely free
Receive cash back bonus equal to the 20% of that original rebate once your "referral" friend makes a purchase
Can earn higher than normal rebates from their Store of the Week
Offer weekly deals with extra store incentives and have extra rebates from many popular stores during the holiday season
Learn more: Click this link to learn more about the Mr. Rebates Cashback Rewards they offer!
Mr. Rebates Reward Requirements
Purchases made with gift cards or store credits are not eligible for cash back
$10 minimum to receive a quarterly payment from Mr. Rebates
Most coupon codes or links you find outside of Mr. Rebates can void back on your purchases and affect cash back trading
Orders must be fully completed by clicking through a respective cash back store link in order to qualify for cash back rebates
Summary
Mr. Rebates Cashback Rewards is a great website that's very easy to use! It will allow you to receive cash back while shopping at your favorite stores online! It's a great way to save money and look at popular deals going on right now. Mr.Rebates Cashback Rewards is free and you can receive $7.50 bonus after your first purchase! I would highly recommend this website to anyone who shops online as you can gain many different bonuses on just one website! If you're interested to look at more ways to save money, check out this website of gift card deals now!
---
Discover it® Miles
is a miles reward card with no annual fee! Receive triple miles your first year of ownership and get a $50 bonus when you use our referral link!
Apply Now -- 
Review
---
American Express Blue Cash Card
is the perfect card to help for those who rack up spending at grocery stores and gas stations. Earn 3% cash back at all qualifying US Supermarkets and more! Be sure to sign up using our referral link to become eligible for their $200 referral bonus!
Apply Now -- 
Review