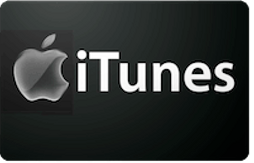 Are you a frequent iTunes user? This iTunes gift card discount is the deal for you. Buy a $50 iTunes gift card for $45. iTunes allows you to listen to all of your favorite artists and genres, watch movies, TV shows, and purchase apps from the app store. Did a new album come out that you have been dying to have? Use iTunes to purchase this album and listen to it directly on your phone. There is a limited amount! Check out the offer details below and buy it now before it's too late!
iTunes Promotional Gift Card:
Promotion: Purchase $50 iTunes gift card for $45
Availability: Nationwide
Expiration Date: None
Limit: 5 gift cards per buyer
Terms & Conditions: Must purchase $50 iTunes gift card for $45 through promotional deal on eBay. Physical gift card only available.
Final Verdict:
iTunes is an easy way for you to gain immediate access all of your media from music, TV shows, and movies. The card never expires so you can use the $50 amount anytime you want. iTunes gift cards are not always sold at this discounted price. Order your iTunes gift card now while supplies last! Did you like this deal? View our full list of Gift Card Bonuses.