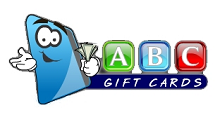 If you're looking for an established gift card marketplace, ABC Gift Cards is one of the best your can find. Since 2006 ABCGiftCards.com has allowed people to buy or sell gift cards in one of the largest gift card exchanges on the internet. When you use this site, you are guaranteed to have a safe transaction for gift cards with no fees, expiration dates, or shipping costs! Plus, they have 45 day guarantee that your card will be valid at the retailer for the dollar amount specified on your order. Those of you looking to buy cards will have a huge selection to choose from with options available at up to 35% off. You can choose from great retailers like Apple, Whole Foods, and Walmart. All gift cards are shipped USPS first class and arrive within 1-5 days depending on the shipping option you choose. Electronic gift cards will be emailed within 24 hours of purchase.
If you're looking to sell gift cards, ABC Gift Cards purchases them at up to 97% of their value and sends out payments within 1-2 business days. And unlike most other retailers, ABC Gift Cards even accepts eGift cards depending on the retailer. They currently accept gift cards from more than 400 different retailers and add new ones everyday. Once they offer to purchase your card, you can accept payment through check, ACH deposit, or PayPal; you can even make a trade for an Amazon gift card, CVS gift card, or United Airline miles!
ABCGiftCards.com Features
Minimum Card Value to Sell: $20
Shipping: Depending upon your shipping method, you can expect your card(s) within 1-5 business days.
Return Policy: All sales have a 45 day guarantee if there is something wrong with your purchase. Otherwise, all sales are final.
How To Buy Gift Cards:
Head to ABCGiftCards.com
Start by using the search bar or clicking the "Buy Gift Cards" button at the top of any page.
When you click the button, you can sort the cards by brand, type, and price.
If you see something you want, simply click "Add to Cart" next to each item you wish to purchase.
When you're done shopping, simply hover your cursor over the shopping cart icon in the top right hand corner of the page and click the number that is listed.
On the checkout page, you'll be prompted to either log in or create an account with your billing address information.

Finally, verify that your order is correct, confirm your billing and shipping information and you will be prompted to complete your payment.
How To Sell Gift Cards:
Click the link Sell a Gift Card at the top of any page on the site.
Enter details about your gift card – the retailer, card balance and quantity.
They'll tell you how much they'll pay you for the gift card. Choose from these payment options:

Check
ACH Deposit
Deposit into PayPal account
Trade card for Amazon gift card, CVS gift card, or United Airline miles.

Sign in to ABCGiftCards – if you are new, it is easy to create an account.
Confirm Sale.
Verify your identity [if applicable] if a first time user.
Mail them your gift card [if applicable]. Depending on the gift card you are selling, you may need to mail them the physical gift card.
When they receive your card, they will verify the actual card value, and make payment to you based on the verified balance upon receipt.
Final Verdict:
ABCGiftCards.com is a great option for those of you looking to buy or sell discounted gift cards. In addition to the variety of gift cards for sale from retailers like Apple, Whole Foods, and Walmart, the site provides a 45 day guarantee that the card you order will be just as advertised. If you want to sell gift cards, you have a chance of receiving up to 97% . Sellers are also required to use a gift card with no expiration date and a value of at least $20. Sign up today and check out other Gift Card Deals from our massive list!