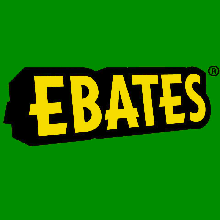 Ebates is a shopping portal with exclusive cash back offers from 1,800+ of the world's top online stores. Plus, the site is FREE to join and you get a FREE $10 Gift Card after you make your first $25 purchase. It's extremely easy to open an account and once you are signed up, you can earn cash back form stores such as Amazon, Disney, Home Depot, Macy's, Kohl's, WalMart, and many more. Simply find a store on Ebates and you will get the specified cash back percentage for purchases made on their site. After that, you may be able to add to your savings with a $50 bonus if you refer your friends and family. The terms of this deal changes every few months, so your mileage may vary. Right now, the site states that for every friend that signs up through your referral and spends $25 or more, you will receive a $5 bonus. When you sign up two friends, you receive an additional $40 bonus, making a $50 total bonus offer. Just send your friends or family with a unique referral link within your account via Facebook, Twitter, or email to get started.
Ebates Terms and Features:
Join and use for free plus get a $10 Gift Card sign-up bonus after your first $25 purchase.
Over 1,800 online cash back stores to choose with weekly deals, store of the week, and seasonal extra rebates.
Cash back payment is made every three months. If you've earned less than $5.01 cash back, they'll carry over your money to the next check.
Refer two friends and receive up to $50 when they each place an order from the site worth $25 or more.
Get your Free $10 Gift Card Ebates Bonus:
Join Ebates for free.
Earn $10 gift card after your first $25 purchase.
Refer friends and family to receive up to $50 when they make qualifying purchases.
Final Verdict:
There are some great deals online, but there are even better deals on Ebates! Taking a couple of minutes to create an Ebates account to find a specific retailer can end up saving you up to 40%. Why wouldn't you want to shop with this cash back portal? If you enjoy it, maybe you should share your experience with friends and family so you can earn a $50 referral bonus! Save even more by using Discounted Gift Cards to make your purchases.