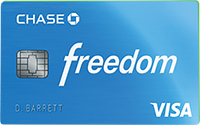 With an annual fee of $0 and a generous cash-back rewards, the Chase Freedom® is a good fit for rewards rookies and cash-back connoisseurs alike. The card offers a $150 Bonus on your purchases in the first 3 months of account opening! It also offers 5% cash back on rotating quarterly bonus categories and 1 % elsewhere! On top of that, there's an easy-to-snag sign-up bonus: Earn a $150 Bonus after you spend $500 on purchases in your first 3 months from account opening!
Pros:
Rotating Categories – Includes places where people make everyday purchases. Each quarter includes broad categories, such as restaurants or gas stations, specific grocery stores or wholesale clubs. For many people, earning these rewards doesn't require many spending acrobatics.
Easy to qualify – You may be able to get the Chase Freedom® even if you don't have excellent credit, so it's a great fit if you're just starting out.
More Value on Merchandise – With this card, you can access the Chase Ultimate Rewards site, on online storefront that gives you up to 10% cash back on your purchases.
Cons:
Rotating Rewards Can Be a Hassle – With the Chase Freedom®, rewards can change every three months, and that can be tedious to keep up with. Especially if you don't always align with the new categories.
Not Good For Traveling Abroad – Like most cash-back cards, the Chase Freedom charges a foreign transaction fee. Because of this, this may not be the perfect card to take with you on your next international getaway.
Who Should Apply: 
Anyone whose spending aligns with the Chase Freedom's rotating bonus categories.
Someone with a short credit history.
Anyone who has the Chase Sapphire Preferred Card.
Who Should Pass:
Someone that doesn't want the hassle of changing bonus categories.
Anyone who wants to travel abroad
Anyone looking for a low-maintenance cash-back card
Reasons Why You'll Enjoy This Card
Chase Freedom® offers tons of perks such as a $150 cash back bonus after spending $500 or more during the first three months of card membership. The card itself is easy to qualify for, you don't need an excellent credit score. Also, enjoy 5% cash back on rotating quarterly bonus categories and 1 % elsewhere! There are tons of great cards out there today, but the Chase Freedom Card is an essential addition to anyone's wallet. Review our complete list of credit card bonus promotions.