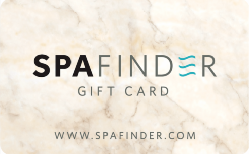 Looking for a massage? How about a haircut? Maybe a manicure? I think Spafinder can help you with any of those things and more. Spafinder is a team of Spas with over 20,000 locations that offer spa services from massages, haircuts, botox, manicures, pedicures, and many more. If you're interested in using Spafinder's services, you should look into this eBay deal and purchase a $100 Spafinder Gift Card for $85. How can you say no to a discounted Spa service? Go buy your gift card now! These types of deals go away in a flash so be sure to purchase your gift card while supplies last!
Spafinder Promotional Gift Card:
Promotion: $50 Spafinder Gift Card for $85
Availability: Nationwide (Locator)
Expiration Date: While Supplies Last 
Limit: 5 gift cards per buyer
Terms & Conditions: Must purchase Spafinder Gift Card through eBay. eGift Card available through email only.
Final Verdict:
If you are in the need of a relaxing spa service, you should check out Spafinder. This Spafinder Gift Card allows you to purchase spa services from over 20,000 locations nationwide like massages, manicures & pedicures, and haircuts. We all need to take the time to take care of our bodies. This deal is an awesome way to help rejuvenate our minds from our busy lifestyles. If you're interested in this deal, be sure to purchase your gift card now while supplies last! These deals go away quick! If you like deals like this one, be sure to check out our full list of Gift Card Bonuses.