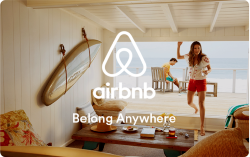 Have you ever used AirBnB before? If you have, you probably know already know about what they have to offer. But if you haven't, AirBnB is a online marketplace where property owners and people that need a place to stay are connected to provide short term leases for a variety of uses like parties, vacations, or a place to stay. It is like the new way to book hotels except from people leasing their properties online. If you want to try it out or want to use AirBnB services, eBay is offering a $100 AirBnB Gift Card for $94 for you to use for the merchandise and services of AirBnB.com. AirBnB is the new and innovative way to find a temporary home. Be sure to check them out and purchase your AirBnB Gift Card quick while supplies last!
AirBnB Promotional Gift Card:
Promotion: $100 AirBnB Gift Card for $94
Availability: Online
Expiration Date: While Supplies Last 
Limit: 5 gift cards per buyer
Terms & Conditions: Redeemable for merchandise and services on www.airbnb.com only. eGift Card only available through email. Promotion only available through eBay.
Final Verdict:
If you're planning a trip and need a place to stay, be sure to check out and use AirBnB. It is one of the best ways to find great deals on places to stay. AirBnB connects property owners with open space to AirBnB users so that you can find affordable or nice places to stay. The AirBnb Gift Card gives you credit that can be used at the AirBnB website for merchandises and services. Use AirBnB to find a place to stay the next time you go travel! Be sure to purchase your gift card now before supplies run out! If you like these types of deals, be sure to view our full list of Gift Card Bonuses.