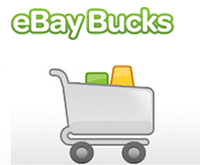 If you shop at all on eBay, its in your best interest to sign up for eBay Bucks. eBay Bucks is a rewards program from eBay that lets you accrued rewards from qualifying purchases. There is a standard 2% reward but eBay regularly rolls out exclusive bonus offers. Currently there is a targeted Ebay Bucks promotion. Select members receive targeted 5x eBay Bucks bonus offer on any eBay Purchase of a single qualifying item of $50+. If you are already a member you must check your inbox and active the promotion in order to get the 10% back. The promotion is valid from 8 A.M September 28, 2015 through midnight September 29, 2015.
This is a great way to compound savings on merchant Gift Card purchases (excludes eBay gift cards). Especially if you first click through a shopping portal like TopCashBack which offers competitive cash back rewards.  You could easily get the TopCashBack rate + discounted eBay gift cards + targeted 10% bonus (or 2% everyday rewards) = up to 30% off select gift cards.
Targeted Ebay Bucks Promotion:
Activate: Check your inbox for the targeted 5X eBay Bucks bonus (10% rewards), regularly 2%
Terms: Valid for all purchases except exclusion categories and buying actual eBay gift cards (other gift cards acceptable). Purchase single item, must be $50 or more. Max payout is $500 eBay bucks earned per quarter. Once issued, your eBay Bucks Certificate expires after 30 days.
Expiration: 9/28 – 9/29/15 (midnight)
Final Verdict:
Hurry get on board this short but sweet deal. You won't find this 5x eBay Bucks bonus too often so check your inbox to see if you qualify. If you are not a eBay Bucks member, now is the time get on board. There is no fee to sign up or spend eBay Bucks but you must enroll and opt-in for all their emails to be targeted for future promotions if you want to benefit from the rewards program.  You have nothing to lose and at least a 2% everyday reward to gain. After enrolling, eBay will automatically track your rewards when you shop as usual. Remember, always make the most of your eBay purchases by shopping through a portal first! Need help deciding which gift cards will increase your savings? See all our Discounted Gift Cards!