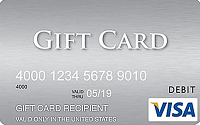 You can now buy $300 Visa Gift Cards From Staples.com with $8.95 purchase fees, shipping included. Great news for those who shop at Staples and use their Chase Ink Plus or Ink Cash card. I always recommend using those cards because the offer a 5% cash back on purchases made at office supply stores. You can now buy your Visa gift cards online at discount when you use these cards and still come out on top after factoring in the fees. Denominations include: $25, $50, $100 and $200. You'd save the most when buying $300 Gift cards but not more then 6 per order. Due to Federal anti-money laundering laws Staples will NOT sell more then $2,000 worth of gift cards in any order.
$300 Visa Gift Cards From Staples.com:
Offer: Staples sells $300 Visa Gift Cards online plus $8.95 purchase + ship fee.
Expiration: No expiration for this deal. No expiration on Visa gift cards.
Terms: Due to Federal anti-money laundering regulations, you can only buy up to $2,000 worth per order. Meaning a limit of 6 cards per order. Gift cards may be redeemed In-Store and Online. Gift Cards and phone cards are non-refundable and non-returnable. They are valid only at the retailer/service provider listed on the card. Prepaid cards cannot be redeemed for cash.
Buy Discounted Visa Gift Cards from Staples:
Buy: Six (6) $300 Visa Gift Cards @ $300.00 +$53.70 fees = $1,853.70
Use: Save more using a cash back card like Chase Ink Cash which will earn you 5X at office supply stores.
Math: $1853.70(6 Visa Gift Cards including fees) –$92.69(Chase Ink Cash 5% cash back) = $1,761.02 Final Cost.
Final Verdict:
Using your Chase Ink Cash or Ink Plus will save you 5% when you buy $300 Visa Gift Cards at office supply stores.Visa Gift cards are accepted anywhere you see the Visa debit logo and they don't expire. You can load them to your Bluebird or Serve with no fee at kiosks. Use them to pay bills, tuition, and taxes. Or just spend them on everyday expenses and grocery shopping. See all of our Gift Cards Deals!