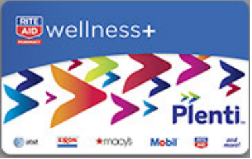 Looking for ways to save on gift cards from certain stores? Buy and save on your gift cards at Rite Aid and earn up to 20% back in Plenti Points up until 2/3/2018. Plenti Points is a credit system that allows you to spend in Rite Aid Stores and partner merchants. 100 Plenti Points are equal to $1 of credit, so you can save on your purchases at these retailers. Use Plenti Points to shop at gas stations like Exxon or Mobil or you can also just use those points at your local Rite Aid. This offer is only here for a limited time so be sure to take advantage of the Plenti Points gift card deal.
Rite Aid Promotional Gift Card:
Promotion: Earn up to 20% back in Plenti Points

Earn $5 wellness+ BonusCash When you buy $25 of the following gift cards:

Chico's
Papa John's
Sephora
Spa & Wellness

Earn $6 wellness+BonusCash When you buy 2 Vanilla Visa Gift Cards
Earn $8 wellness+ BonusCash When you buy $50 of the following gift cards:

Buffalo Wild Wings
Cheesecake Factory
Chili's
DSW
Nike
Regal Cinemas

Availability:  Must be a Plenti Member with a Rewards Card.
Expiration: February 3, 2018
Terms and Conditions: Promotion only valid in participating Rite Aid stores. Prices are only valid to printed date of promotional period. In the event of disagreement between the flyer and this popup (online ad), the flyer shall take precedence. Limited supplies and selection available. Limit 2 per customer.
Final Verdict:
If you frequently shop at Plenti Points sponsored companies like Exxon, Mobil, or Rite Aid, take advantage of this gift card deal so that you can earn up to 20% back in Plenti Points. Purchase the qualifying gift card at your Rite Aid and start stacking up on those Plenti Points! This is a limited time offer. Be sure to grab your gift cards at your local Rite Aid and get your Plenti Points now! If you liked this deal, be sure to look at our full list of Gift Card Bonuses.