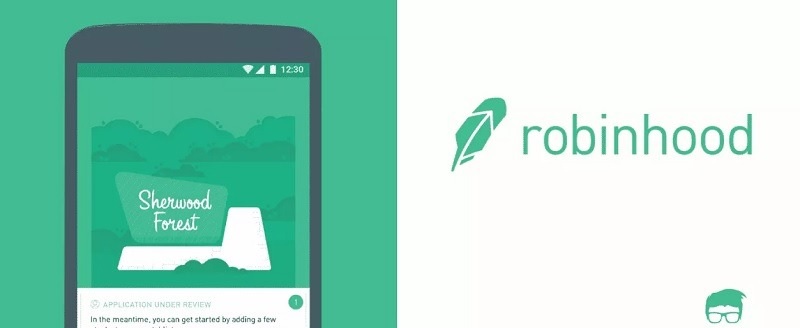 Robinhood Stock Brokerage started with the idea that a technology-driven brokerage could operate with significantly less overhead. Because of this, it allows customers to buy and sell United States listed stocks and ETFs with $0 commission.
They've become a leader in being an online mobile brokerage along side their competitor, WeBull. Because of intuitive designs in their browser and apps, Robinhood is beginner friendly and easy to use. Easy to read charts help both experienced and new traders make crucial predictions for future investments.
No minimum balance is required to open an account for regular investing.
If you plan on signing up, be sure to use our referral link! This link will earn you a free stock that can value up to $200! 
Commissions and Fees
This is an obvious reason as to why Robinhood has become so successful. Their commitment to providing 100% commission-free stock, option and ETF trading is admirable and worth noting. Every dollar investors save from commission is added to their returns.
Since opening, Robinhood has expanded and added more stocks, options and ETFs to their list and in June 2018 added multi-leg options, permitting traders to use less capital in setting up these complex trades.
Account Minimum
Being the beginner friendly platform they are, Robinhood does not require an account minimum, so investors can get started right away.
Though it's obvious, you will have to put money into your account in order to get started. Many other brokerage services require an account minimum of $1,000 just to get started.
However, note that Robinhood requires a $2,000 minimum portfolio balance to open a margin account. Don't blame Robinhood though, this is a Financial Industry Regulatory Authority regulation.
Easy Use
Being mobile based, it's good to be accustomed to smartphones, and if you are, using Robinhood should be a breeze. The entire process of signing up and adding funds is quick and easy.
Creating an account means simply providing the required information such as email, full name, social security, etc. The company says that account can be approved of within the hour, which users can then link their bank account and start funding their account.
Each transfer is done with instant verification, so no reporting of micro-transfers is required. Bank transfers take up to 3 business days, but can be set up to be automatically, removing the hassle of having to manually do it every paycheck.
New customer bank transfers of up to $1,000 are available instantly for investing. Robinhood Instant, a free account upgrade, also makes the proceeds from the sale of stocks or ETFs available immediately to reinvest. Accounts with Robinhood Instant are subject to margin trading regulations.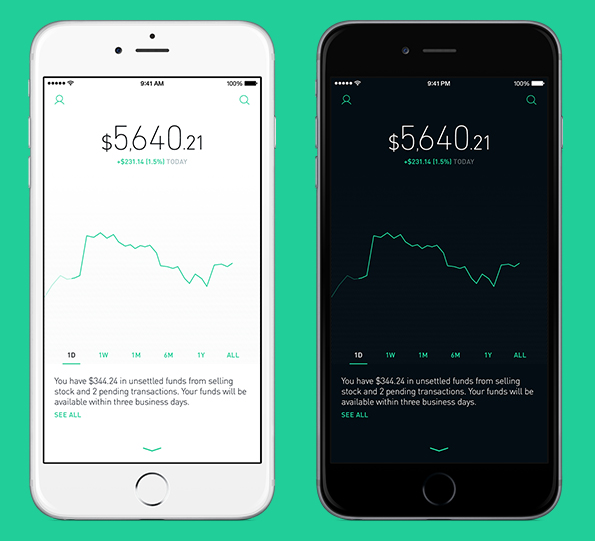 Platform and Interface
Robinhood's charts and interface is simple and minimalist, providing only necessary information. They try to avoid cluttering the platform with graphs, charts and other information that may be confusing. However, this could be seen as a negative, as it doesn't have all the bells and whistles of a typical stock broker, but if you're an investor who know what they want, the Robinhood platform is more than enough to quickly execute trades, and the app supports market orders, limit orders, stop limit orders and stop orders.
An online browser has been released for computers that does the exact same things as the mobile app. This just means that investors are no longer limited to their phone.
Robinhood Gold
Robinhood Gold is a premium service that offers investors access to extended-hours trading — 9 a.m. to 6 p.m. Eastern — and the ability to trade on margin, also known as borrowed money. An account minimum of $2,000 is required for a margin account.
New investors should be wary of marginal trading as it uses the brokers money. This means you can lose more than what you actually have.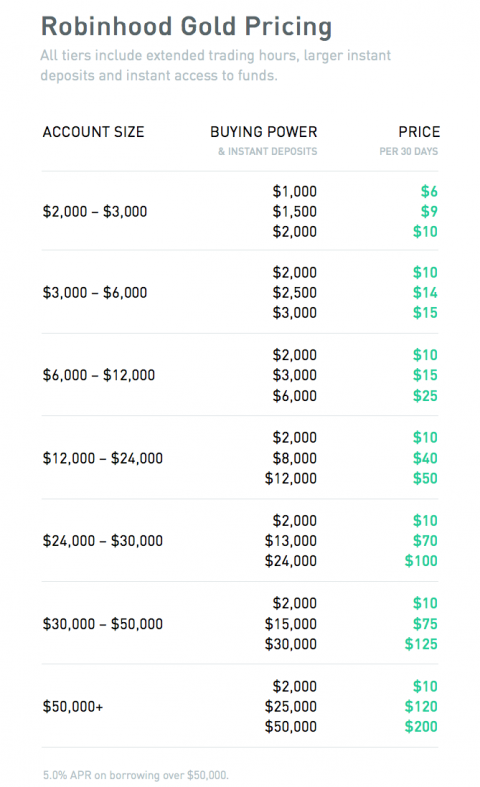 Pros
Free Trades
Easy to Use
Options Trading
Market News Notifications
Crypto
No-Fee ACH Transfers
No Minimum Deposit
Cons
No Retirement Accounts
Limited Functionality
Potentially Delayed Data
No Mutual Funds or Bonds
Bottom Line
Robinhood is the perfect platform to get the ball rolling and expose yourself to investing fee-free. The platform is regularly adding new features, including the web-based platform, options trading and Robinhood Crypto. Enjoy their minimalist design and easy to read charts. Although far from perfect, it's a great platform to get started.
If you're interested in making an account, be sure to sign up through our referral link! Using this link will earn you a free stock with a value of up to $200!