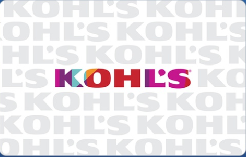 If you are in the need of a complete wardrobe change, shop with Kohl's! Combine this $20 Kohl's Gift Card deal for $10 with their exceptional prices on brands like Nike and Jennifer Lopez and you will definitely be saving. This gift card deal is a targeted deal meaning that it is only available to an invited audience like you! Since it is such a special deal, you'll want to purchase it as soon as possible while supplies last! Check out the offer details below and order today!
Kohl's Promotional Gift Card:
Promotion: $20 Kohl's Gift Card for $10
Availability: Nationwide (in-stores and online)
Expiration Date: None
Limit: 1 gift card per buyer
Terms & Conditions: Must purchase $20 Kohl's Gift Card for $10 through Groupon link. eGift Card only available.
Final Verdict
Kohl's is a great place to start completely changing your style. They offer great clothing brands like Nike, Jennifer Lopez, and Levi's at great prices giving more savings to customers. Remember! This deal is for a targeted audience meaning that it only shown to a select amount of people. Purchase a Kohl's Gift Card today and save $10 on a $20 gift card while supplies last. Did you like this deal? Make sure to check out our full list of Gift Card Bonuses!