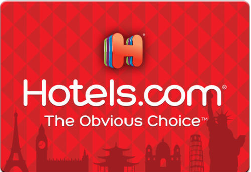 If you're planning a trip soon and need to find a hotel, consider using Hotels.com to find and book hotels at the best prices. Hotels.com is a booking website that provides users with information on hotel savings and bookings. If you end up booking with Hotels.com, be sure to buy this $100 Hotels.com Gift Card for $90 so that you can save even more!
The gift card can not be used to pay for hotels at hotel locations, but it does give you credit to book hotels online with Hotels.com. This is a great way to save money on your next hotel stay! A gift card deal like this goes away real quick so be sure to hop on it while supplies last!
Hotels.com Promotional Gift Card:
Promotion: $100 Hotels.com Gift Card for $90
Availability: Nationwide Online (Locator)
Expiration Date: While Supplies Last
Limit: 3 gift cards per buyer
Terms & Conditions:  Hotels.com gift cards are usable up to balance only for hotel bookings at www.hotels.com/gc. Not redeemable at hotel locations or if you choose the Pay at Hotel option online. Physical gift card only available through Mail.
Final Verdict:
If you're traveling, you will probably need to book a hotel. This Hotels.com Gift Card  is a perfect way for you to save on your next hotel booking and also get access to the information, deals, and savings that Hotels.com provides. Hotels.com allows you to book for a bunch of hotels from many cities and countries. Remember! This gift card can only be used for online booking payments and will not be accepted as payment at the hotel. Save with Hotels.com and purchase a Hotels.com Gift Card now while supplies last! If you like this type of deal, be sure to view our full list of Gift Card Bonuses.