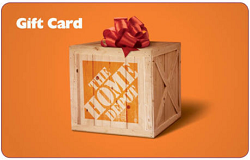 Start your home project with this Home Depot Gift Card deal by purchasing a $500 gift card for $490 from eBay. The gift card will be delivered to your door free of cost! It's time to dust your toolkit off and get to work with this sweet deal, so no more excuses about building that tree house. Home Depot offers plenty of products to help you with your DIY projects or even your day-to-day needs such as cleaning supplies and decorations. Check out the offer details below this offer has no expiration date but will be gone in a flash so be sure to buy it today!
Home Depot Promotional Gift Card:
Promotion: Purchase $500 gift card for $490. (Save 2%)
Availability: Nationwide (Locator)
Expiration Date: None
Limit: 5 gift cards per buyer
Terms & Conditions: Must purchase $500 gift card through eBay for the promotional deal. Physical Gift card only available
Final Verdict:
The great value of this card is that you can use it whenever. The promotion is only for physical gift cards that will be mailed to you free of cost. The gift card may be used at any of Home Depot's retail stores or online. This Home Depot Gift Card is a perfect way to jump start your home projects. Buy them now while supplies last! Did you like this deal? View our full list of Gift Card Bonuses.