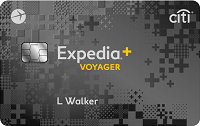 The Expedia®+ Voyager Card from Citi from Citi might be just the thing to heal your travel credit card blues. Every time that you swipe or book travel through Expedia, you will earn Expedia+ Rewards Points, which could get you to your next vacation fast. Earn 25K Expedia+ Points when you spend $2,000 in 3 months. There are many ways to earn points with the Expedia+ Voyager Card. earn 4 Expedia+ bonus points per $1 spent on eligible Expedia purchases, earn 2 Expedia+ bonus points per $1 spent on dining out and entertainment, and earn 1 Expedia+ bonus point per $1 spent on other purchases!
Pros:
Great earning power – One of the best things about the Expedia®+ Voyager Card from Citi is its earning power. Since you will be earning points by booking through the site as an Expeidia+ Rewards member with +gold status and racking up bonus Expedia+ points with the card, there are opportunities to end up with quite a bounty.
Hack-ability – The best way to book hotel gives this card a certain hack-ability that travelers who like a good deal-finding project crave.
No foreign transaction fee – The Expedia®+ Voyager Card from Citi is a great option for folks who travel internationally because it doesn't carry the dreaded 3% foreign transaction fee common in other cards.
Airline incidentals credit – Every year, you'll get a $100 credit toward airline incidentals purchased with your Expedia®+ Voyager Card from Citi. This could cover stuff like baggage fees, in-flight meals and drinks and more on qualifying airlines. As you're calculating the value of this card, be sure to keep this credit in mind, as it more than offsets the annual fee.
Cons:
Limited Redemption Options – There are only two redemption options for all the Expedia+ points that you're racking up with this card.
Comparatively Low Value Per Point – If you're looking for a card that will give you a stellar value per point, this one doesn't fit the bill.
Annual fee isn't waived for the first year – Although this is not a deal breaker, it's worth noting that this card doesn't waive its annual fee for the first year.
Who Should Apply: 
Anyone who is a loyal and frequent Expedia shopper.
Anyone who flies a lot.
Someone who spends a lot of dining and entertainment.
Anyone who is comfortable with a complex rewards program.
Who Should Pass:
Anyone who wants to be able to book travel on any discount websites, or directly through an airline or hotel chain.
Someone who doesn't stay in hotels very often.
Anyone who wants a card with a simply rewards structure.
Reasons Why You'll Enjoy This Card
The Expedia®+ Voyager Card from Citi is a solid choice for Expedia users. The complexity of the rewards program coupled with the ability to stack bonus points and frequent flyers make it appealing to travel hackers. Earn 25K Expedia+ Points when you spend $2,000 in 3 months. Individuals who enjoy maximizing their rewards, and carefully planning how they will redeem their points, can be earn rates as high as 5.6%. If this card isn't for you, then check out our full list of credit card bonus promotions.