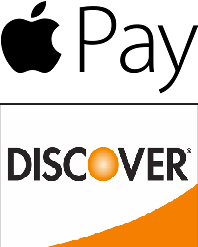 Last week we posted an article about Discover and Apple Pay's partnership for an amazing cash back or miles accumulation opportunity for up to $2,200 bonus. Discover has since updated their terms to exclude gift card purchases will not be eligible for this promotion. They've stated via Twitter that both Merchant and Money type (ie Visa prepaid) gift cards, will not be given spending points. What does that mean for Discover card holders? Not only will you have to make in-store purchases, but they will now probably have to be physical goods to earn the 10% Apple pay promotional points.
Some have suggested that Discover may not be able to tell what your exact purchases are because their credit card Level of Processing may not be detailed enough for the issuer to review. We don't know that for sure. So you may still buy gift cards but Discover possibly won't give you the bonus points.
Discover & Apple Pay 10% Cash Back Bonus:
Cash Back Offer: 10% Cashback or 10x miles on up to $10,000
Expiration: 12/31/2015
Important Details: You will need an iPhone that supports Apple Pay (iPhone 6, 6 Plus, 6S, or 6S Plus) & Discover Card enrolled in the Double Cashback (or Double Miles) offer.
Terms: Valid for in-store purchases only, promotion available only in US, and bonus is paid on the first $10,000. Excludes Gift Card Purchases.
Word of Caution: If you buy gift cards anyway, you are risking the probability that Discover will not honor the Apple Pay bonus.
Final Verdict:
Some people may have thought to take advantage of this great bonus opportunity to earn almost double the points buying gift cards. That route may be effectively blocked but this Discover & Apple Pay promotion sans the gift card exclusion, it's still a great deal if you planned on using it without the gift cards purchase.  There are over 70 stores to choose from when using Apple Pay, so the opportunity to spend $10,000 by December 31, 2015 is still viable. Don't forget the 4th quarter bonus categories that will earn you an additional 5% if those merchants accept Apple Pay. Read more on where to find merchants for Gift Cards Exclusion that accept Apple Pay.