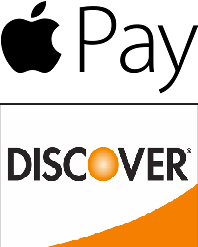 Discover Card owners need to take advantage of this huge cash back bonus! Between today, 9/16/2015 and 12/31/2015, Discover and Apple Pay are working together to offer a 10% Cashback Bonus for up to $10,000 for all in-store purchases when using your Discover card with Apple Pay. In case that 10% bonus isn't enough, you will also earn the regular 1% cashback on everyday spending plus double cash back for your 1st year (only if you are a prospective/new card owner)! Now let's assume you use your Discover Card and Apple Pay to buy Amex Gift Cards, which can be bought in increments of $200 with a $3.95 purchase fee for each. Assuming you have a new Discover Card with double cash back activated, you can basically profit $2,000 after buying $10,000 worth of Amex gift cards! Plus, you can avoid purchase fees by visiting the GCNF Amex Gift Cards No Purchase Fees article.
For those of you who aren't interested in earning cash back, Discover also allows you to earn 10 bonus miles per dollar spent with Apple Pay when you use a Discover Miles Card. If you need a Discover It Card or Discover Miles Card, now may be the best time to sign up.
Discover & Apple Pay 10% Cash Back Bonus:
Bonus Offer: 10% Cashback or 10x miles on up to $10,000
Expiration: 12/31/2015
What You Need: An iPhone that supports Apple Pay (iPhone 6, 6 Plus, 6S, or 6S Plus) & Discover Card enrolled in the Double Cashback (or Double Miles) offer.
Terms: Valid for in-store purchases only, promotion available in US only, and bonus is paid on the first $10,000
Additional Advice: Use Apple Pay and your Discover Card to buy prepaid gift cards to take full advantage of the bonus.
Stores with Apple Pay:
Aeropostale
American Eagle
BJ's
Champs
Chevron
ExtraMile
Foot Locker
Meijer
Office Depot
Radioshack
Six:02
Sports Authority
Texaco
Wegmans
Apple
Babies R Us
Bloomingdale's
Disney Store
Duane Reade
Macy's
McDonald's
Nike
Panera Bread
Petco
Sephora
Staples
Subway
Toys R Us
Unleashed
Walgreens
Walt Disney World Resort
Whole Foods Market
There are additional stores that accept Apple Pay with even more to come, so stay up to date with where to use Apple Pay.
Final Verdict:
The Discover & Apple Pay promotion is absolutely worth it for new cardholders. Existing Discover Card owners are not eligible for the Double Cash Back for a year offer unless they have already signed themselves up. However, you guys can have up to two Discover cards if you have had the first account for at least a year. That might be worth the effort considering this is the best credit card promotion of the year so far with up to $2200 bonus cashback! Even if you don't want to purchase prepaid gift cards, you have over 70 stores to choose from when using Apple Pay, so you're bound to find a way to spend $10,000 between now and 12/31/2015. You can read up on other ways to take advantage of the best Credit Card Deals on Gift Cards No Fees.