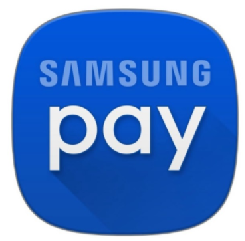 If you are a Samsung Smartphone user, Samsung Pay is offering a points for your transactions as well as discounted gift cards for you to have! Check your Samsung Pay app for a promotions on discounted gift cards that can go up to 20% off select Gift Cards! Some Gift Cards that Samsung Pay is promoting are Applebee's, Bow Tie Cinemas, and Crazy 8. Samsung Pay is only offering these deals for a limited time and view the full list of gift cards through the Samsung Pay App under the gift card tabs. Check you Samsung Pay App now before the deals go away!
Samsung Pay Promotional Gift Cards:
Current 20% off Gift Card Promotions:

Applebee's $50 card for $40
Bow Tie Cinemas $25 card for $20
Crazy 8 $25 card for $20
Dollar Shave Club $50 card for $40
Domino's $25 card for $20
Gymboree $25 card for $20
JCPenney $50 card for $40
Wayfair $50 card for $40

Other Gift Card Promotions:

GameStop $50 gift card for $42.50
Overstock.com $25 gift card for $21.25

Expiration: Unknown
Availability: Samsung Pay Users
Limit: 2 gift cards per buyer per day; no more than $100 total in gift card value per day, whichever is first.
Terms & Conditions: While Supplies Last. A maximum of $500 worth of gift cards can be purchased during Promotional Period. Gift Cards are subject to retailer terms & conditions.
Final Verdict:
If you are a Samsung Smartphone user and have not taken advantage of the Samsung Pay App yet, be sure to sign up for an account and check out the Gift Card promotions that are going on. You can receive gift cards that are up to 20% off. When you start taking advantage of these deals, remember that you can only purchase 2 gift cards or up to $100 gift card value per day. These deals are only going to be here for a limited amount of time so be sure to set up your Samsung Pay account and start looking at all the Gift Card promotions! Come visit our full list of deals like this one at Gift Card Bonuses.
---
Discover it® Miles
is a miles reward card with no annual fee! Receive triple miles your first year of ownership and get a $50 bonus when you use our referral link!
Apply Now -- 
Review
---
American Express Blue Cash Card
is the perfect card to help for those who rack up spending at grocery stores and gas stations. Earn 3% cash back at all qualifying US Supermarkets and more! Be sure to sign up using our referral link to become eligible for their $200 referral bonus!
Apply Now -- 
Review