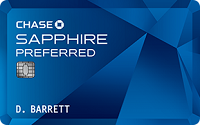 Do you enjoy traveling? Then the Chase Sapphire Preferred® Card might just be the card for you! The Chase Sapphire Preferred® Card offers 50,000 bonus points after you spend $4,000 on purchases in the first 3 months from account opening – that's $625 towards airfare or hotels when you redeem through Chase Ultimate Rewards®. You'll also get tons of premium travel benefits such as 2X travel points and 1 point for every dollar spent on all purchases worldwide. By just simply being a cardholder, you can earn a 20% discount on travel booked through Chase Ultimate Rewards. Overall, this card is perfect for those who truly enjoy traveling and is a must-have due to it having one of best travel benefits!
Pros:
Double Reward Points on Both Traveling and Dining – For every dollar, you spend on all purchases worldwide you earn 1 point. When you travel and dine at restaurants, you will earn 2X points. So whether you are traveling for work or simply just taking your family out for dinner, you will rack up points!
Travel Discounts – Redeem your points online at Chase Ultimate Rewards to receive 20% off your travel expenses which includes airfares, hotels, car rentals, cruises, and much more! Savings can add up quickly, which is why the Chase Sapphire Preferred® Card is one of the most popular cards amongst those who love to travel.
Transfer Points – Transferring Points is made simple with the Chase Sapphire Preferred® Card. You also get the most of your points at a 1 to 1 ratio to Chase Airlines and Hotel Partners. Participating partners include SouthWest Airlines, United Airlines, British Airways, Korean Air, and Virgin Atlantic. For frequent travelers that use these airlines, the Chase Sapphire Preferred® Card can save you tons of money!
No Foreign Transaction Fees – Most credit cards typically charge a 3% foreign transaction fees, however, the Chase Sapphire Preferred® Card has no foreign transaction fees, smart chip technology, and worldwide acceptance. This is why this card is an excellent select for those that travel abroad frequently.
Cons:
Annual Fee – The Chase Sapphire Preferred® Card has an Introductory Annual Fee of $0 the first year, then $95. Annual fees are actually common for overly rewarding cards like the Chase Sapphire Preferred®. If you spend at least $190 a week dining out or traveling, then consider acquiring this card since you'll receive 2X reward points on travel and dining.
No Introductory APR – Chase Sapphire Preferred® Card does not offer an introductory interest rate which isn't a big deal if you are responsible and usually pay off your balance in full each month. If you tend to carry a balance, then this card might just not be for you.
Rejection – With all of the impressive benefits that this card has to offer, the application process is really selective. This requires you to have excellent credit to even qualify.
Who Should Apply: 
Weekend travelers and Jetsetters.
Those who are busy and dine out regularly.
Loyal Chase customers that own multiple cards and accounts.
Who Should Pass:
Those that spend more on groceries than dining out.
Those that can't justify an annual fee because they don't spend enough on their credit card each year.
Those who only want to earn a reward on a particular hotel chain or airline.
Reasons Why You'll Enjoy This Card
The Chase Sapphire Preferred® Card one of the top cards for those that love traveling and dining out. The card is made ideal for traveling with its 2X bonus points on dining out and 1 point for every dollar spent worldwide! The card also has tons of other benefits to offer such as hearty rewards, a redemption program, and five-star features. So what are you waiting for? Apply today to enjoy saving money on your travel expenses! Review our complete list of credit card bonus promotions.