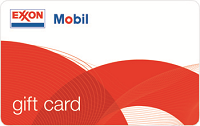 If you regularly get gas from Exxon then its a good time to pick up some ExxonMobil gift cards. Right now, you can get 5% off of ExxonMobil gift cards when buying $100 Gift Card on eBay. There is a 5 card limit per account, so essential you can get $25 bonus for buying $500 worth of ExxonMobil gas cards. Don't forget to shop through shopping portal such as iConsumer and sign up for eBay bucks to get 2% cash back for future purchases from eBay.
ExxonMobil Gift Card Ebay Promotion:
Savings: Buy $100 ExxonMobil gift card for $95.
Expiration: Limited time and quantity only. Gas cards are very popular, so we suggest you buy it ASAP.
Terms: Add up to 5 ExxonMobil gift carts to your cart to get maximum $25 bonus. Get free delivery to your home!
Maximize Your Gift Card Rewards:
Sign up for eBay Bucks to earn 2% rewards
Sign Up for iConsumer and earn 1.3% Cash Back on all eBay purchases with no maximum. (If not, go through Mr. Rebates to earn a 1% Cash Back).
Within your iConsumer, search "eBay" go through the link to earn a 1.3% Cash Back.
On the eBay website, search for the eBay Gift Card Deal and purchase a $500 worth of gift cards for $475.
Pay it with a Citi Double Cash Card to earn 2% cash back.
Final Verdict:
So whether or not you use Exxon-branded gas, this promotion should motivate you to get some gas gift cards. You probably have to buy gas anyway so now is a good time to save yourself some money in the process.  Or use them as gifts, anyone with a car would appreciate it! Hurry, this is a good discounted rate, throw in the sign-up bonus, eBay Bucks and rewards cash back makes it a steal! See our full list of Best Discounted Gift Cards Rates!