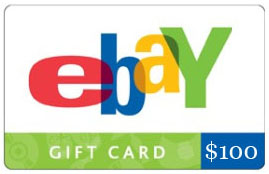 Here's another great way for buying eBay gift cards at a big discount from Raise.com.  You can get $5 off $75 New Customer Coupon w/ code RAISE75AF along with their current 2% discount. In addition, you can go through SimplyBestCoupons to earn 2% cash back for using their shopping portal.
Even if you don't know what you want to buy yet, eBay gift cards is the perfect card to save on future purchases on eBay.com. With an eBay gift card, you can go further by buying other discounted Gift Cards and save as much as a 25% off discount on your favorite shops. Examples of the most popular brands include iTunes, Sephora, Domino's and many more.
Maximum Savings eBay Gift Cards #1:
For a limited time eBay gift cards is now on sale with maximum discount.
Sign up for SimplyBestCoupons. ($5 sign up bonus)
Within your account, search for "Raise" and click through it.
Sign up for Raise.com
Add $100 eBay gift card for $96.
Use new user promo code RAISE75AF to get another $5 off.
Use an Citi Double Cash Card to earn maximum cash back.
Math: $100 eBay gift cards – $4 savings  – $5 new user promo code – $2 portal cash back – $2 Citi cashback = $87 actual payment
Final Verdict:
This is another method to buy eBay gift cards, which we strongly advise to save further money. You can go through Simply Best Coupons first on the above steps for Raise.com to earn their $5 sign up bonus. Once you have an eBay gift card, wait around for eBay to have "eBay gift cards sale" in order to buy eBay gift card with another eBay gift card.