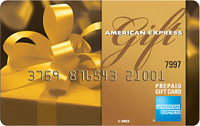 The American Express Gift Card is perfect for any occasion, this Gift Card features "Gift" embossed in gold.  in the background, a gold-tinted gift card is tied with a fancy bow.
Purchase AMEX Gift Card
You can purchase an American Express Gift Card for your friends and family members. I'm pretty sure that anyone would appreciate the gift of an AMEX Gift card, since the gift card can be used at millions of locations across the U.S.
What You Should Know:
The funds that are on the AMEX Gift Card never expire. No inactivity fees or other post-purchase fees. Receipts may obtain a free replacement after a Card's "valid thru" date passes by calling their Customer Service at 1-877-297-4438. Keep in mind that American Express does not ship Gift Cards that are purchased on this website to the states of HI and VT. Your Gift Card purchase can total up to $30,000.
How To Use You Card:
First, you must sign the back of the Card where it is indicated.
Next, you need to write down the Card number, along with the Customer Service Number (1-800-297-7327), the 3 digit card security code on the back of the card, and the 4 digit card security code on the front of the Card and keep it in a safe place.
You will need the Card number, CSC, and CID to check your balance or replace the Card if it is lost or stolen.
Terms & Condition
Fee-Free offers and Free Shipping offers valid with promotion code at checkout until advertised expiration date.
Offers cannot be combined.
Offers are only valid on americanexpress.com/gift and do not apply to National Parks, United Way, Children's Health Fund and Logo Gift Cards or Gift Cheques.
Purchase Fees or Shipping Charges may apply subject to terms of the offer.
Gift Cards or Business Gift Cards may be used at US merchants that accept American Express® Cards.
Final Verdict: 
The American Express Gift Card is a great gift for your friends and family members. These cards are accepted at millions of places. Use them wherever that AMEX is accepted in the U.S., Puerto Rico, and U.S. Virgin Islands. They are also 100% replaceable and refundable, so you will never have to worry about your card being stolen. To save money on purchasing these gift cards, you can purchase them using a cash back credit card such as the Chase Freedom Unlimited.