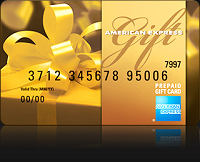 The American Express Business Gift Card is the perfect gift, especially to those make own a business. The American Express Gift Card is a non-reloadable card that can be used anywhere in the U.S, Puerto Rico and the U.S. Virgin Island (as long as the merchants accept Amex of course!) This card allows you to load up an exact amount of money without having to worry about ANY fees or expiration dates. This Gift Card makes a great gift for your co-workers.
Why Purchase an American Express Gift Card?
Well, this American Express Business Gift Card makes the perfect gift for your co-workers or anyone who has a business. The fact that you can customize a personal message on it, just really shows how much you care for someone. Also, the card itself looks aesthetically pleasing, a gold-tinted gift card tied with a fancy bow.
There are many perks that the American Express Business Gift Card has to offer such as No Fees (including dormancy, service or other fees.) and that the card does not expire. This card is accepted at over a million places. They are also replaceable and refundable, so if you card ever gets lost or stolen, then you don't have to worry about your balance being gone.
How To Use You Card:
First, you must sign the back of the Card where it is indicated.
Next, you need to write down the Card number, along with the Customer Service Number (1-800-297-7327), the 3 digit card security code on the back of the card, and the 4 digit card security code on the front of the Card and keep it in a safe place.
You will need the Card number, CSC, and CID to check your balance or replace the Card if it is lost or stolen.
Final Verdict: 
Overall, the American Express Business Gift Card is a great choice when looking for a gift for your co-workers. First off, the card itself looks amazing and can be customized with a personal message. The personal message is what makes the gift more meaningful. Also, this card can be swiped at millions of places that accept American Express. You also won't have to worry about your card being stolen or lost because the card is fully replaceable or refundable. So don't hesitate on buying this Gift Card. Also, if you want to save a little bit of money, you should purchase this gift card using a cash back credit card such as the Barclaycard CashForwardTM World MasterCard®! 
---
Discover it® Miles
is a miles reward card with no annual fee! Receive triple miles your first year of ownership and get a $50 bonus when you use our referral link!
Apply Now -- 
Review
---
American Express Blue Cash Card
is the perfect card to help for those who rack up spending at grocery stores and gas stations. Earn 3% cash back at all qualifying US Supermarkets and more! Be sure to sign up using our referral link to become eligible for their $200 referral bonus!
Apply Now -- 
Review