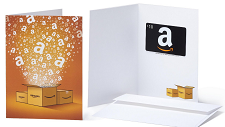 In a previous post I've told you how you could get a $10 Amazon Gift Card Bonus when spending $50 on Family Favorites promotion. Amazon is concurrently running a similar bonus program for purchasing their Amazon Gift Cards. For targeted accounts, Amazon is offering a $10 Amazon credit with the purchase of $50 in Amazon gift cards. Just make a single purchase totaling $50 in Amazon gift cards; may be in the form of email, printed at home, or sent through the mail card (with Free One-Day Shipping). At check out enter promotional code  "0915GCARDS" in the "Gift Cards & Promotional Codes" box. And Amazon will email you a $10 promotional code to spend at Amazon.com. Your order must be placed between September 1, 2015, and September 30, 2015 to qualify. Your free $10 promotional bonus is valid through and expires on November 15, 2015. Amazon likes to roll these similar deals out occasionally, so don't be too down if you didn't get the offer this time. Check and see if you are eligible for this Amazon Bonus, you should see a "click to add the code to your account" button if you qualify. If not you will then see  "Unfortunately, you are not eligible for this offer."
Amazon Gift Card Bonus $10: 
Expiration: September 30, 2015. Check Amazon.com to see if offer is available to you. You must be logged into your account.
Product Details: Spend $50 on a single purchase of Amazon Gift Cards, get a one time promotional code of $10 to spend at Amazon.com. Your $10 promotional bonus code expires on November 15, 2015. Promo Code will be sent within three (3) days to the email address associated with the Amazon.com account used to purchase the GCs.
Terms: Offer limited to one per customer /primary email address. $50 in gift cards must be purchased in combined GC value, and the GCs must be purchased in a single order at Amazon.com.  Offer valid on GCs purchased on Amazon.com and, in the case of Email GCs scheduled in advance, delivered before September 30, 2015. Offer may not be combined with other offers. The maximum benefit you may receive from this offer is one $10 Amazon promotional credit code. Promo Code may be applied only to eligible products sold by Amazon.com Inc. and its affiliates (excludes third-party merchants).
Some restrictions apply. See Terms & Conditions.
How To Get $10 Promotional Credit from Amazon:
Log on to: Amazon.com
Add: $50 worth of Amazon 

gift cards

to cart. I added five $10 cards since small denominations are easier to give out as last minute gifts. Also makes great teacher's gifts, stocking stuffers or Boxing Day gifts.
Apply code: At check out apply "0915GCARDS" in the "Gift Cards & Promotional Codes" box. The savings will be reflected on the final order checkout page.
Important: Your $10 promotional bonus "Promo Code" will be sent within three (3) days and expires on November 15, 2015.
Final Verdict:
Amazon Gift Cards make gift giving easy, for both you and the recipient. You try to save money on your self, it only makes sense to do so on gift giving as well. When giving these gift cards you'll save 20% off and still look generous. I love these types of deals because not only do you save money, you also save time. "Time is money"….and all that jazz. You should see our list of great Discounted Gift Cards.