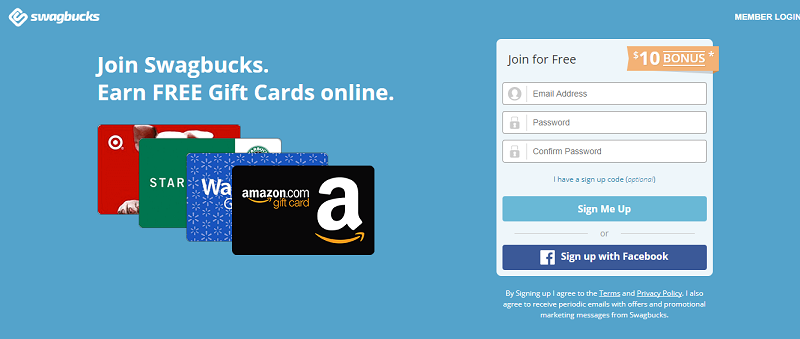 Swagbucks Promotion
Swagbucks is an online rewards destination that allows you to earn free gift cards when you shop online, watch videos, take surveys, and discover deals! This website allows you to earn money and rewards by just doing online activities! Swagbucks is currently having a promotion where you can earn up to $13 Bonus once you sign up as a new member! If you're interested in making money by just staying at home, Swagbucks is the website for you!
Application Link
Swagbucks Promotion: Click this link here to sign up for Swagbucks!
Swagbucks Promotion Features
Earn free gift cards for taking surveys, watching videos, shopping online, and more
Free to join
Earn free $5 – $25 gift cards
Redeem gift cards at popular stores
Get gift cards from Target, Walmart, Amazon, Best Buy, and more!
Learn more: Click this link to learn more about the Swagbucks features!
Swagbucks Promotion Requirements
Member must "Activate" the Bonus in the Swag Ups section of your account
Get a 1000 SB bonus, which is equivalent to $10 in value, when you spend at least $25 at a store
Must receive a minimum of 25 SB for this purchase, which you must complete within 30 days of registration
MyGiftCardsPlus.com and travel purchases do not qualify.
Summary
Swagbucks is a great website to earn money super easy! All you have to do is simply do online activities that interests you such as taking surveys or watching videos! Also, you may earn a $13 bonus! You may earn $10 once you spend at least $25 in shop within 30 days of sign up. You may also receive an extra $3 if you use our referral link! This promotion is only available for a limited amount of time that are available to new users only! If you're interested in more ways to save money, check out our best discount rates and promotions!