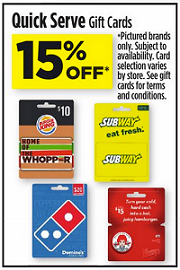 Dollar General is having a discount promotion on Domino's, Wendy's, Subway and Burger King gift cards. When you buy these select gift cards at Dollar General you will get a 15% discount! This offer is good through September 20, 2015. Be aware that this is a "while supplies last" offer so there is no specified limit. Note, some DG stores won't let you use credit cards to purchase (YMMV) so this deal is probably best for gift giving for personal use. In-Store only.
Dollar General Gift Cards Promotion: 
Expiration: September 20, 2015. While supplies available.
Product Details: Purchase any Domino's, Wendy's, Subway & Burger King Gift Cards and get 15% off! Great for everyone! College kids, teacher's gifts, or just for days when you don't want to cook.
Terms: In-Store purchase only. No limits on quantities. Some stores restrict the use of credit card for purchase, cash or debit only.
How To Get 15% off Gift Cards:
Go to Dollar General (locations)
Choose one or all of the following gift cards Domino's, Wendy's, Subway and Burger King.
You will get a 15% discount at check out using cash or debit.
Final Verdict:
I know it requires leaving your man/woman cave but you've got to eat right? Why not save a little where you can. This may be especially good for those of you who have college kids, makes a great addition to a care package. See our list of Best Gift Cards Deals!