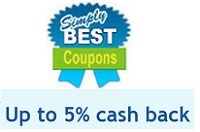 For a limited time, SimplyBestCoupons is offering a 5% Cash Back Promotion on select $50 and $100 eGift cards made at GiftCardMall. They are an online shopping portal that gives you a $5 sign-up bonus plus 5% referral bonus for referring each new account. We like this deal because you can now buy eBay gift cards at a discount and use them to purchase other gift cards like gas or Amazon cards. To maximize your savings use the Citi Double Cash card to earn points whenever you shop!
SimplyBestCoupon 5% Cash Back Promotion:
Offer: Sign up for SimplyBestCoupons and get a $5 sign up bonus
Purchase: Buy eBay Gift Cards at GiftCardMall to earn 5% Cash Back; Use to buy other gift cards that are rarely available at discount.
Expiration: Limited time Offer
Additional Terms: 5% cash back on eBay, Staples, Lowe's, Sephora, Applebee's, Staples, iTunes, Gamestop, JCPenny, Sears, Toys R Us – $50 and $100 eGift Cards only. 2% cashback on most other gift card brands 0.5% cash back on Visa Gift Cards. The following gift cards don't receive cash back: Hess Gasoline, Gulf, Arco, Safeway, BP, Bestbuy, Target, Macerich Visa, Choice Card, Gift Card Mall eGift cards.
Save more with eBay egift cards from SimplyBest Coupons:
Sign up: SimplyBestCoupons ($5 sign up bonus) Currently offering 5% cash back from GiftCardMall on select egift cards of $50 or $100 only.
Search:  GiftCardMall and shop through their link for eBay Gift Cards (eBay gift cards never expire and earn eBay Bucks).
Use your Citi Double Cash to get additional cash back whenever you shop.
Enroll: eBay Bucks offers 2% cash back on future ebay orders. You can even get rewards for buying other gift cards!
Final Verdict:
Be sure to take advantage of  SimplyBestCoupons 5% Cash Back Promotion because its a limited time offer.  With eBay gift cards you can buy gas cards and other gift cards that are hard to find at discount from eBay all while earning eBay Bucks! Use your eBay eGift Cards to save more on Discounted Gift Cards.