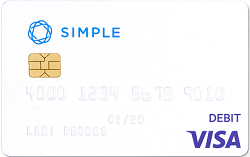 Simple banking was founded back in 2009 by Josh Reich and Shamir Karkal. It consisted of newly innovated software to help account holders reach financial goals. This would be achieved through the creation and tracking of multiple savings goals via their website or mobile app.
You start by creating an account for free, setting your custom made goals, then setting up automatic saving transfers.
In addition to these services, they help you view your spending habits. This can help find holes where money could be saved. Once you've created your free account, a Visa card can be sent that's link to your account. All of these features offered by Simple are free!
If you're interested in signing up, be sure to use our referral link! Signing up with it can earn you a $20 bonus!
Simple Features
A unique feature offered by Simple is their "Safe-to-Spend" feature. Most available balances just show the amount of money held in the account without taking into account bills and payments. Safe-to-Spend takes into account upcoming bills and payments that need to be paid and shows you money that can be spent.
Automated Savings – Simple's automated savings feature, or Goals, gives users a unique way to save money. Simply set a Goal for a specific expense or purchase and then Simple system automatically puts away a little bit of money every day towards this.
Customer Service – Simple prides themselves on offering great customer service. Their agents are empowered to work independently to solve problems and aim to do right by their customers.
Online Bill Pay – You can use the Payments & Transfers features to pay anyone through your online Simple account. Most payees will be issued a check, which arrives to the destination in about 3-5 business days.
Expense Tracking and Budgeting – Aside from their savings and goals features, another strong option is their Mint-like budgeting section.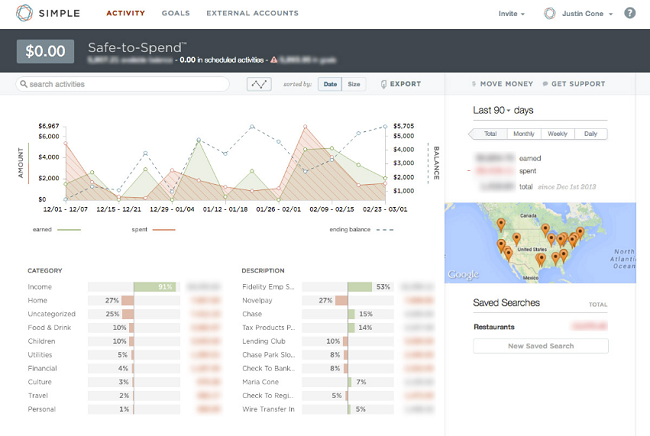 Mobile App
Using their mobile app, you can take a picture of a check and have it deposited directly into your account, for a maximum of $5,000 per day (and a per-check limit of $2,000). The funds will be available between 1-9 business days after the deposit is processed. The check deposit maximum is 10 checks per week or a total of 15 checks per each 30-day period.
Direct deposit is the easiest way to fund your account. You can also transfer funds electronically from an account at another institution, or deposit a check by taking a photo of it with our mobile app. We can also accept deposits by mail. Cash is a bit trickier, but still possible. The easiest way to get cash into Simple is to get a money order at any USPS, or a local grocery or convenience store, and deposit it with the mobile app.
Pros
Setting Financial Goals: The innovate software and app lets their clients set financial goals and set up automated funds transfers into savings accounts.
Personal Debit Card: When you open a new bank account with Simple they send you a personal Visa debit card, just like any other bank will. The design is clean and quite striking.
Innovative Software: Their software design is simplistic and innovative. Using the app is an easy and their customer service is responsive and helpful.
Cons
Not Available Internationally: Unlike Chase or Schwab, Simple is only available in the U.S. They're focusing on the basics but they plan to expand internationally at some point.
Limited Budgeting: While Simple offers categorization and budgeting features that are similar to Mint it's only limited to your Simple bank account.
Only Online: No physical location, so everything has to be done online.
Bottom Line
This online bank is focused on helping the user reach financial goals by making multiple small savings goals. They offer tools like "Safe-to-Spend" that shows your balance after taking taxes, spending, and savings transfers into consideration. Additionally, it shows spending habits to help find holes in your spending and find ways to save more money.
If you're interested in creating your free account, be sure to use our referral link! You'll earn a $20 bonus when you sign up using it!