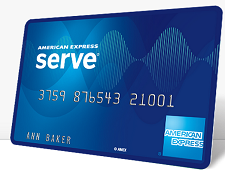 American Express Serve prepaid card gives you the spending power of a credit card but works like a debit card. What I like most about Serve is that when its time to spend, you would use like a credit card anywhere Amex is accepted. There is no minimum balance fee if you live in the states of New York, Vermont and Texas, otherwise the most you would have to pay is $1 per month (there are exceptions). With Serve, there is also no credit check so virtually anyone can open an account.  They offer many tools to help manage your money, like free online bill pay, free load online when you link it to your bank account. There are no overdraft fees and you get free direct deposit.  No fees when you withdraw from a MoneyPass ATM. Bonus, you get fraud protection just like a credit card if its ever lost or stolen.
American Express Serve Prepaid Card:
No minimum balance requirement (N.Y., VT & TX) otherwise its $1/month
No credit check. No overdraft fees.
No fee when withdrawing funds from MoneyPass ATMs, over 24,000 ATMs nationwide .
Fraud protection included.
Free direct deposit.
Money managing tools: Free Online Bill Pay. Free online cash loads. Sub-accounts available and an App to make it all mobile. You can even send or receive money through email and Facebook!
How to sign up for Amex Serve:
Sign up at American Express, you get the card in about a week via mail.
Once the card arrives you log into your Serve account to activate it.
Load your card, up to$2,500 daily limit and $5K per month.
Use your new prepaid card anywhere Amex is accepted. Send money via text or email!
Final Verdict:
Serve makes managing your money easy, safe and convenient. You can even create sub accounts to pay friends and family. That's also a great way to keep track of your kids allowances or help out your college age children without having to pay wire fees or money transfers. You also have the option to move your loaded money into a "Reserve" account similar to that of a savings account.  That money can not be spent unless it is transferred back into your available spending balance. It's a great alternative to traditional banking if you don't want or need a deposit account. Since it's a pre-loaded card you are spending money you have and don't have to worry about overdraft fees or paying interest. Read more on Gift Cards Tips & Tricks.