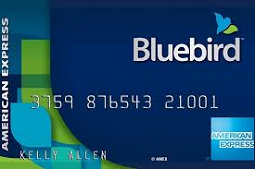 Bluebird is a prepaid reloadable American Express card, similiar to Target's "RedBird". This card however was developed in partnership with Walmart. Walmart Bluebird Cards require you to first load them with funds, you can either buy them inside  Walmart stores (locations) with a fee or purchase online for free. Once that is done you can spend them just like an Amex credit card, they can be used anywhere Amex is accepted.  This makes them a safe and convenient form of payment. Keep in mind that since Bluebird and REDcard are issued by Amex you can only have one of these accounts at a time. But unlike an Amex credit card, Bluebird offers some flexibility in its spending options. Amex's partnership with Walmart allows the Bluebird card to be utilized like a deposit account.
Walmart Bluebird Card:
no minimum balance
no monthly fee
no statement fees
no overdraft fees
free bill pay
no account inactivity fees
no credit checks
load Card for free at any Walmart cash register
Its not all roses though, there are also some distinct drawbacks with Bluebird. Even though its underwritten by American Express, its not a credit card so it won't help you build credit. Also its not accepted everywhere that major credit cards are used like Visa or MasterCard. This inconvenience could be off putting since you'd want to spend your money anywhere without having to have cash on hand.

Liquidating your Walmart Bluebird:
available Direct deposit
access to Online and Mobile bill pay
$0 fee cash withdrawals at MoneyPass ATMs (Other ATMs $2.50)
link to bank account and withdraw online
Walmart Bluebird Cards has some limits on the type of funds and amounts you may use to load the card. You can not use a credit card including Vanilla-branded gift cards, however you may use a pin-enabled debit (gift) card to load Bluebird. Visa gift cards are usually still accepted; they are found at most major retailers but carry a $5.95 purchase fee per card. As for amount limitations, you can load up to $2,500 per day and $5,000 per month.
Loading Bluebird is easy as there are two options. Some Walmarts have a MoneyCenter Express machine similar to an ATM machine. You just follow the on-screen instructions to load, using the last four digits of the gift card when you are asked for the PIN. Or you'd go to any open register and give the cashier your Bluebird then tell them you want to load it with your "debit card". After they swipe your Bluebird, you'd confirm the amount on the signature pad, swipe your Visa gift card and enter the PIN. You're done once they hand you a printed receipt.
More Related Articles on Amex Gift Cards: