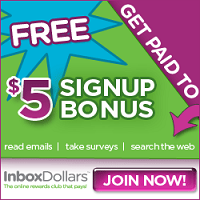 Inbox Dollar is offering a $5 sign up promotion for new accounts and a 5% cashback for all eBay purchases. Here is an quick way to make some easy money. Especially if you've made any eBay gift card purchases from shopping portals such as TopCashBack or BeFrugal because both offer some kind of cash back match guarantee. If you are unfamiliar with Inbox Dollar, its similar to Swagbucks where you get rewards for taking surveys, playing games and shopping online. The incentives aren't great but you'd definitely want to take advantage of the eBay 5% cash back, its rarely more then 1-2% on other sites.
Inbox Dollars Promotion:
Sign Up Bonus:  one time reward of $5
Incentives: make money by taking surveys, playing games and shopping online
Advantage: highest payout for eBay at 5%
Minimum Payout: $30 cashback to receive reward
I'd recommend you use the eBay 5% cash back from Inbox Dollars.
Final Verdict:
With Inbox Dollars' offer of a $5 sign up bonus and 5% eBay cash back purchases, its a good idea to join while the promotion lasts. Also sign up for TopCashBack if you haven't already in order to submit for their 110% Highest Cashback Guarantee. Read more about eBay Gift Cards!