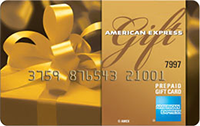 There are many places where you can buy and American Express Gift Cards, online or in-store. I will be going over all of the options of what works out best price wise!
Buy AMEX Gift Cards:
Visit The American Express Gift Card Page to see your options for buying Amex Gift Cards online.
Gift Cards You Can Buy Online:
Buy AMEX Gift Cards In-Store:
You can count on finding American Express Gift Cards in just about any location that sells a variety of gift cards. For example, pretty much any drugstore, grocery store, or supermarket.
Here are some well-known retailers that have AMEX Gift Cards available for purchase:
Office Depot
Staples
Safeway
Walgreens
Walmart
Target
Winn Dixie
Pathmark
Stop&Shop
Albertson
Kmart
Kroger
CVS
US Post Offices
Rite Aid
Online VS In-Store
The differences you can expect when comparing buying American Express Gift Card online or in-store.
Online
Shipping Fees will apply.
Purchase Fees are a little less.
Card value maximum is higher.
Promotions exist for waiving Purchase and Shipping Fees.
More designs and customization/personalization is possible.
In-Store:
No Shipping Fees to worry about.
Purchase Fees will be a little more.
Card Value is typically maxed out at $500 per card.
Limited designs/no customization.
Final Verdict: 
To be honest, the better way to go is to purchase your American Express Gift Cards online. I mean if you only need 1 gift card with a value of $500 or less and you're in a hurry, buy it in-store. Otherwise, online would be a better option.