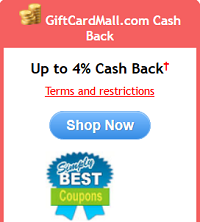 SimplyBestCoupons, an online shopping portal, is now offering 4% cashback on select gift cards from GiftCardMall. This is great news because certain gift cards such as Visa, eBay, or Staples can only get 1% or 2% cashback the most. Those without an INK Card, this may be the best way to earn cashback on eBay gift cards. As always, you can only have a maximum of $5,000 of eBay Gift Cards per rolling 180 days.
SimplyBestCoupons GiftCardMall 4% Cashback:
Promotion: Get 4% cashback when using online shopping portal SimplyBestCoupons on popular gift cards at GiftCardMall
Best Tips: Compare all gift rates with the current 4% cashback. I would only recommend buying eBay gift cards here.
Terms: The 4% cash back applies only to $50 and $100 eGift Cards only.
How To Maximize Cashback for eBay Gift Cards:
Sign up for SimplyBestCoupon
Within your account, search for "GiftCardMall" or go through the direct link here to earn 4% cashback on select gift cards.
Get 4% cashback on eBay, Staples, Lowe's, Sephora, Applebee's, iTunes, Gamestop, JCPenny, Sears, & Toys R Us. We believe eBay gift cards is worthwhile here.
Use the Citi Double Cash Card to earn nearly 2% cashback with your purchase.
Final Verdict:
While we don't know if this is a permanent move on GiftCardMall 4% Cashback for SimplyBestCoupons or not, it's always a good idea to find more ways to get the maximum savings for eBay gift cards. Those with an INK card from Chase, you always have the option buy eBay e-gift cards from Paypal Digital Gifts and get 5x rewards which. See more Gift Cards Tips & Tricks.