Best Gift Cards Tips & Tricks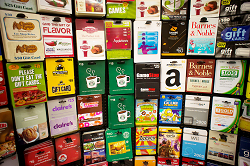 Gift Cards are gaining more popularity every year with a booming market that is estimated to be a $60 billion dollar industry. Gift cards have been one of the most requested types of gifts for several years in America and is rapidly growing in popularity world wide. Commonly, they are given by employers to their staff as Christmas gifts, an incentive to bolster productivity or reward a job well done. Businesses use them as a convenient way to give Thank You gifts to partners and affiliates. However, there are still some who don't like to give Gift Cards as gifts because they feel its an impersonal gift. That's far from the case. Especially now that there is an explosion of branded cards to choose from so they are not just a thoughtless option. There is probably a card you can buy for just any person or occasion.
Best Gift Cards to Buy
Online Retailers: Major online retailers such as Amazon and eBay are great shopping portals for those who hate to fight crowds, drive to a brick and mortar store or even have to put pants on.  I fall in to the last category. And who doesn't like the idea of having their purchases delivered right to their front door? These shoppers are usually savvy enough to employ coupon codes for additional discounts or get free shipping.
Restaurant Gift Cards: Its nice that some chains have an Umbrella company gift card that allows buyers to choose from a variety of their brands. For example, Darden is a multi-restaurant brand. Their restaurant includes: The Olive Garden, LongHorn Steakhouse, Bahama Breeze, Seasons 52, The Capital Grille, Eddie V's, Yard House and Red Lobster. That's a lot of choices for just one gift card. These are great for couples welcoming a new child, because who wants or has the time to cook when there is a bundle of joy in the house. Seriously, parents love these, you are saving their sanity one meal at a time. College students may like an option other then what the campus cafeterias have to offer. I'll take a Chipotle or Starbucks gift card any day!
Spa Gift Cards: Moms, wives, sisters, aunts, girlfriends, boyfriends; let's just say almost everyone would love some pampering. Be it a massage, facial or pedicure, gift cards give your recipient their choice of treatment. So if you know any one of the above mentioned demographic, chances are they would love to have a little get-away. Even if its just for an hour, its an hour of bliss that you can take credit for. Be someone's hero, give them a gift card to a mini vacation.
Auto Shop Gift Cards: Don't be quick to pass on these and give them just to the gear heads in your life.  Some women and particularly the elderly would benefit greatly from these. Most retailers like Pep Boys, AutoZone and O'Reilly's do simple maintenance like replace car batteries and windshield wipers when you purchase from them. This may be a simple afternoon job for you but not everyone will know how to do these fixes or are hale and hearty enough to attempt it.
Hard Ware Store Gift Cards: For those DIYer's, new home owners and the project weekend warriors, these are gold! These types of cards are a favorite of mine to give because 1) you know they will use it and 2) this is stuff they are going to buy anyway. Hobbyist rejoice!
Entertainment or Recreation Gift Cards: Theme parks, movie theaters, local zoos, museum memberships and bowling alleys are just a few examples of what to buy when you want to give the gift of fun memories.  I love giving these as birthday gifts to people of all ages. Its different from getting a toy or gadget that maybe soon forgotten or become outdated.  Remember those parents with a new baby? They could use a break. Maybe pair this with a coupon for one night of free babysitting provided they schedule ahead. Speaking of building memories, these are wonderful as a Father's Day for your husband or dad so they can take along a special little person to spend some quality time together.
iTunes Gift Card: If someone you know has an iPad, iPod, iPhone or any Apple electronic product then this one is a sure winner.  Its not just for audiophiles. There are endless numbers of apps, games and movies to be found. All in the convenience of one place and just a few clicks away. Or in smaller denominations they make great stocking stuffers. I'm always looking to grow my playlist and getting extra moves to finally past that obscenely difficult level of Candy Crush.