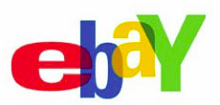 You guys probably know this already, but eBay.com is a great place for you to sell unused gift cards or buy new gift cards! This site is a huge marketplace for gift cards from over 100 different retailers, and it makes buying and selling gift cards easy for any user. Purchased gift cards are often shipped for free with no expiration date or extra fees. You can always feel confident when making a purchase on eBay.com because every seller has a 1-5 star rating as well as customer reviews. Many of the gift cards on sale will be at a highly discounted price, but you usually have to bid on them instead of making an immediate purchase.
If you're looking to sell gift cards, eBay makes it extremely simple for you. You set up your free account, link a PayPal account to the account, and then create a new listing. Your listing is highly customizable with options to sell your gift card immediately or place it up for an auction for a limited time. You can then set your price, write a description, and more.
eBay.com Features
Minimum Card Value to Sell: None (customizable)
Shipping: Shipping terms depend on the seller.
Return Policy: Varies by seller. However, you are covered by the eBay Money Back Guarantee if you received an item that is not as described in the listing.
How To Buy Gift Cards:
Head to eBay.com
Create an account.
Browse through thousands of gift card options.

If the card is listed as an auction, you will have to bid on the offer until it ends.

If the card is available to buy now, you click the "Buy It Now" or "Add to Cart" button if you want to browse through other offers.

Pay with a credit card, debit card, or PayPal account.

If you purchased an e-Gift Card, your order should be sent to your email address pretty quickly depending on the vendor.

If you are purchasing physical gift cards, shipping will depend on what option you choose.
How To Sell Gift Cards:
Create an account
Click the "Sell" button at the top of any eBay page.
Enter a description about your product; e.g. Walmart Gift Card
eBay will place your product in the appropriate category and provide you with examples of similar listings
Customize your listing and place it up for sale or for bidding
When someone purchases your gift card, ship or email the product to them and verify that you've done so on your account.
Final Verdict:
If you're looking to buy or sell gift cards, you can't find a more user-friendly website than eBay.com. There are thousands of discounted gift cards for sale or up for auction, and they are all sold by dependable users with seller ratings and reviews. You can also take advantage of the site's selling process, which provides you with customizable features that are very easy to use. Sign up today and check out other Gift Card Deals from our massive list!