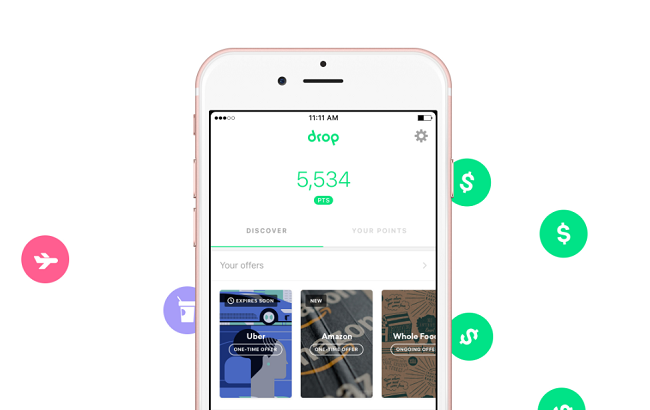 Drop App is an easy to use app that incorporates rewards into your everyday spending. The app will automatically collect Drop points when you make purchases that you can later redeem for gift cards to your favorite store.
This app can be found on the iOS and Android app store. It can help you build your savings by rewarding your everyday purchases. Despite criticism saying that it is a counter intuitive way to save money, since it makes you spend money to earn rewards, you're being rewarded for purchases that you'd be making regardless of the app. This app is an intriguing concept that can give those who use it with rewards.
You can earn an additional reward by signing up using our referral link with promo code hustlermoneyblog. This link will get you a 5,000 point bonus that can be saved and used towards your rewards!
How Did Drop App Start?
The Drop app originated in Canada where it was released mid 2016. It was created based on research and demographics showing that younger generations prefer spending money on "extras" such as Uber rides, gourmet cafes, or organic non processed foods. It showed that more people were willing to spend money and be less brand loyal if it meant saving money.
He put all this information together and created Drop, the app that gives rewards and builds competition between stores for greater benefits and offers.
So How Does It Work?
If this app has struck your interest, continue reading where we go into depth on how it works.
1. Download the App
Available to both iOS and Android, this app can be downloaded by visiting the Drop website and entering your phone number. You'll receive a download link for your phone.
Be sure to use our referral link with promo code hustlermoneyblog when signing up to receive a 5,000 point bonus! 
2. Create an Account
Create an account in the app by entering basic information. You'll then be prompted to enter your card information in order to link them to your account.
The app works by tracking your card purchases and automatically adding points to your account. No other work is necessary afterwards, you'll make your usual purchases and earn points for those purchases.
3. Pick Your Favorite Brands
After linking your cards to your account, you'll be asked to pick 5 of your favorite brands. These are common brands such as Target, Walmart, Starbucks, etc, places where you'll be frequently shopping at.
Note that once you've picked your five brands you won't be able to change them. Think carefully before making your decision. I recommend choosing brands that you find yourself frequently shopping at. This is a step you should definitely take your time on and consider which brand you'll be shopping at the most.
4. Choose A Few Offers (Optional)
Once you've carefully considered and picked your 5 favorite brands, you'll be prompted to sign up for a handful of offers. This is an optional step, so if none of the offers seem appealing to you at the moment, you can skip this step. Don't worry though, you'll get these types of offers frequently so you don't need to make any hasty decisions.
They also offer a section called Bonuses. Users can complete tasks such as referring friends or linking a second card to earn extra points. This system helps you earn points when you stay engaged with the app.
5. Earn Your Points!
When you've completed the entire registering process, you'll have already accumulated a small amount of points. The next step is to start spending. We recommend that the best way to earn points and save money is by making necessary purchases that you would have made regardless of the app. Don't go spending just because you'll earn reward points from the Drop app.
If you've found the offer you need/want, make the necessary purchase where you can earn a lump-sum amount of points or earn points per dollar spent. Note that the points will be shown as pending until they've been deposited into your account.
6. Earn Rewards
Once you've accumulated at least 5,000 points minimum, you can redeem them to earn gift cards to any of your desired stores. It's worth noting that 5,000 points is essentially $5.00. So if you want a $40 gift card to a store, you'd need to earn 40,000 points in order to do so.
This amount may seem daunting, but the app frequently has offers that can give a considerable amount of points for a purchase you would have made anyway.
Remember, the goal of this app is to help you earn rewards for purchases you would have made regardless of the app. Don't go spending your money just because you'll earn rewards from it. Wait for necessary purchases and great offers that can help you accumulate your points.
Examples Of Rewards Earned From Purchases
Below is a small collection of offers that were given when selecting some of these select brands. This is to give you an idea of the points you'll earn when making your purchases.
Bath & Body Works (15 points per $1)
Blue Bottle Coffee (8 points per $1)
Chipotle (12 points per $1)
Dunkin Donuts (14 points per $1)
Fred Meyer (12 points per $1)
HEB (10 points per $1)
Lyft (10 points per $1)
Macy's (8 points per $1)
McDonalds (8 points per $1)
Starbucks (12 Points per $1)
Target (8 Points per $1)
Dunkin Donuts (14 Points per $1)
Trader Joe's (12 Points per $1)
Walmart (2 Points per $1)
These are common stores that you can easily earn points and rewards on for your usual purchases.
Bottom Line
The Drop app is definitely an app that is worth downloading. The entire process of creating an account and linking your cards is a breeze. The intuitive way that the app automatically tracks your purchases and adds points makes it perfect for those who don't want to constantly log into their account before a purchase in order to get your qualifying purchases.
Download the app today and be sure to use our referral link with promo code hustlermoneyblog to earn yourself a 5,000 point bonus.