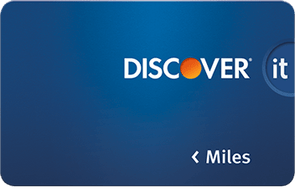 The Discover it® Miles Card is one of the many different cards offered by Discover. It's definitely comparable to other competitors and offers a better-than-average rewards rate without an annual fee.
It rewards their card holders with 1.5 miles per dollar spent with no spending limited or annual fees. For the first year customers will earn 3x the miles earned per dollar. In addition to, customers who apply for their card with our referral link will receive a $50 bonus after your first purchase!
If these reward rates and referral bonuses haven't sold you, we'll go in depth on why you should choose Discover.
Why Discover?
Discover does their credit cards very well. Most of their cards have no annual fee, no foreign transaction fees, and never charge a penalty interest rate. More importantly, they lead in the industries customer service satisfaction rates that is 100% US-based.
This offer creates amazing possibilities with the Discover it® Card, which already features 1.5 miles per dollar spent. As we keep discussing and going over this card, you'll learn why this card may be one of the best options on the market right now.
Great Customer Service
In an industry filled with countless bad remarks about the customer service, Discover manages to pull away from the crowd and shine with their amazingly satisfactory customer service. Discover offers 100 percent U.S.-based customer service and wins frequent awards for best credit card customer satisfaction.
Straightforward Rewards
There are many cases where miles credit cards offer free vacations and flights when you use their rewards system, but redeeming them was always a pain. Many factors had to be taken into consideration such as restrictions on when and where you could use the miles (black out dates, etc.).
It was possible to stretch your miles if you flew to weird destinations at odd times, but who wants to do that? Many people found these reward systems pointless and not good for anything.
This is where the Discover it® Card comes in. Miles could be redeemed directly for statement credits on travel related purchases like, tickets, hotels, rentals, etc. You can also choose to redeem the miles for cash back.
With this credit card: 100 miles equals $1, plain and simple. So when you earn 10,000 miles, for example, that's $100 you can put towards travel or redeem for cash.
Intro Offer
The Discover it® Card gives new card holders the chance to earn 3x miles their first year of ownership. They'll match any of the rewards you make. The matched miles will automatically be added to your account after the first year so long as your account is still open and in good standings.
Just to emphasize, you'll be earning triple miles your first year, and that's with no annual fee.
If you're a big spender and spend around $20,000 dollars your first year, you'll expect to earn 30,000 miles. However their into offer will match your miles, so you'll end up earning 60,000 miles! That's $600 credit statement that can go towards future travel spending.
Other Perks
Get In-Flight WiFi fees refunded 

Discover will refund up to $30 worth of in-flight wifi purchases for flights. Simply just purchase the WiFi using your card and you will be refunded via statement credit.

0 Percent Intro APR

Indulge in 0 percent APR for the first 14 months of card ownership.

Free FICO Credit Scores
Security 

If your card is lost or stolen, Discover provides free overnight shipping of a replacement card to any U.S. street address. Plus, you're never responsible for unauthorized purchases.
Disadvantages
To be quite frank, the only disadvantage of this card is that you have to wait a year before to earn your matches miles.
Furthermore, another other issue with the Discover card is that, while accepted almost everywhere in the U.S., Discover cards are not widely accepted in all countries.
Bottom Line
Discover is really pushing towards giving amazing benefits to their new customers. They want people to come and try out their credit cards for no annual fee. If you're a frequent traveler this may be the perfect card for you, especially when they give triple miles for the first year of card ownership.
All this in combination with their hands down amazing customer service makes them a credit card seriously worth considering. If you're sold on this card, be sure to sign up with out Referral Link to earn yourself a $50 bonus after your first purchase!