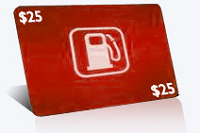 You should buy Discounted Gas Gift Cards. Gasoline prices is the bane of my life, no matter how well or badly the economy is doing. If you have a car you already know, you will always have to buy gas. Unless you choose to travel via horseback from now on. Then you have to consider the cost of feed, a stable to house your equine and the time spent on poop scoop duty. NO thanks! And where would you install the baby safety seat? But that's another post. Back to gas, its one of those expenses that almost everyone has to pay for. So why pay full price for an essential cost when you have options.  Did you know you could buy gas gift cards at a discount? Yes! Gas can be on sale if you know where and when to buy. So do yourself a solid and buy gas gift cards to save money and avoid getting bitten by your own horse.
CardCash Gas Gift Cards Promotions:
Currently, you can visit CardCash to save on gas gift cards from  5 different gas station brands across the US! You can save between 2.5%-7% on gas at stations including BP, 76, Sunoco, Meijer, and Speedway. This is a great way to stack up your gas cards and save a few dollars especially if you have a long road trip coming up.

Discounted Gas Gift Cards:
Buy at CardCash: Discounted Gas Gift Cards online to save money.
Gas Stores: BP, 76, Sunoco, Meijer, and Speedway.
Savings: 2.5%-7%
Additional savings: Use portals to earn rewards like cash back or miles.
Stack your savings: Compound your savings by using a credit card that earns you the most.
How to Maximize savings on Gas Gift Cards:
Log on: Always go through a portal first to earn rewards for any gift card purchase. I'd recommend CardCash right now as they have up to 7% Meijer cards. Prices change often.
Add: Choose the highest discounted brand available for maximum savings. Since the card inventory changes regularly you may want to check back and buy when its lowest for you.
Use: When buying online make sure you choose a credit card that gives you the most rewards so that you can add to your savings. The Citi Double Cash is great for these types of purchases.
Final Verdict:
For most of us, gas is just a necessity. It's only rational to want to cut back on cost where we can, when we can. Gas should not have to always cost an arm an a leg, especially now that you know you can always get it at a discount. You know its not one of those gift cards that will languish in a bottom drawer and eventually forgotten. Even if you don't own a car, you probably know someone who does. They would love to get free gas. You are that awesome friend who gives great practical gifts! And no one has to muck out a stinky horse stall. Find more ways to save money with Gift Cards Deals!