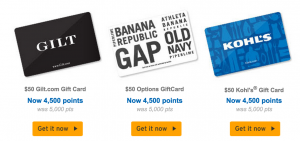 Now may be a good time for Citi ThankYou card holders to redeem select gift cards using ThankYou points. From now until September 18, 2015, Citi allows you to redeem $50 Kohl's, Gap, OR Gilt Gift Cards for 4,500 TY points(regularly 5000 points)- that's a 10% discount!
Citi ThankYou Points 10% Bonus Redemption:
For those without a Citi card, check out the Citi ThankYou Premier Review. Don't forget to boost your savings by checking out the best ways to use your gift cards.