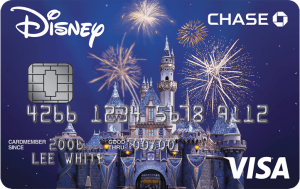 Chase bank is the exclusive issuer of co-branded Disney credit and debit cards in the United States. They're co-branded, because Chase bank issues out the card, but the card holders will get special exclusive perks to Disney for being a Chase Disney Cardholder.
At the moment, a big selling point to this card is their amazing referral bonus. Right now card holders who sign up using a referral link will get a $200 bonus! That's $150 more than the normal sign up bonus. The best part is that the spending requirement is only $500 in the first 90 days.
If you're interested be sure to use our link to get yourself that sign up bonus. However, if you're not quite sold yet keep reading for our full review of the Chase Disney Visa Card.
Basics
The Chase Disney Visa Rewards Card has a $0 annual fee while the Premier Card has a $49 annual fee. Whether you get the rewards card or the premier card should depend on what you put on the card.
To start off, the rewards card originally has a $50 sign up bonus, while the premier card has a $200 bonus. However recently Chase and Disney decided to add on a referral bonus that ups the bonus of the rewards card to $200. So long as this promotion is up, you'll be earning the $200 bonus with no annual fee.
Perks
The perks of these cards are where they start to shine. If you're an avid Disney fan and amusement park goer, this card can save you hundreds of dollars.
Finding someone with a Chase Disney card is already rare, but they give exclusive perks and special prices that can end up saving you hundreds of dollars on your trip. The downside is that you'll pretty much only be using this card 1 time per year, and that's if you don't forget about it. You spend 11 months of the year without being able to receive the special perks and benefits of the card.
Here's a small list of the Major perks you can receive with this card:
10% off select dining locations at Disney World and Disneyland
10% off select merchandise purchases at Disney World, Disneyland, Disney Cruise Line, Disney Store, and DisneyStore.com
15% off select tours, like our favorite, Keys to the Kingdom, at Disney World and Disneyland
15% off select spa treatments at Disney World, Disneyland, and Disney Cruise Line (20%)
10% off select Castaway Cay packages on Disney Cruise Line
Special character experiences at Disney World and Disneyland
Advance access to select discounts on Disney World vacations
Special 0% financing on select Disney vacation packages
This is why we said that this card can save you hundreds on a trip. All these savings start to add up towards the end of your Disney stay which can easily total over a hundred dollars in savings.
While we don't recommend you finance and go into debt on your Disney vacation, they do offer a special 0% finance when selecting your Disney Vacation Package.
Disney Rewards Program
Disney offers their Disney Rewards program which is a point algorithm that gives points to card holders in exchange for purchases.
Individuals who use the card can earn between 1 to 2 Disney "cents" per dollar spent. These include:
Disney Rewards Visa cardholders earn 1% back in Disney Rewards Dollars on all purchases
Disney Premier Visa cardholders earn 2% back at "gas stations, grocery stores, restaurants and most Disney locations" and 1% back on everything else.
Redeeming Your Points
You can redeem Disney Rewards Dollars using a Disney Redemption Card, which is a bit like a Disney gift card. Redemption cards have no expiration date, regardless of when you earned the points you put on them. Besides most Disney locations in the United States, redemption cards can be used for certain movie ticket purchases. Premier cardholders can also redeem their Disney dollars towards airfare.
Best Way to Earn Disney Points
As of 2018, Disney and Chase started offering their customers a $200 referral bonus program. This is an awesome program that gives you a link to share with friends and family. If someone applies for the card through your link, you'll receive a bonus in the form of Disney Points.
Not only that, those who sign up through the link get a bonus as well. They'd be crazy to not sign up through the link.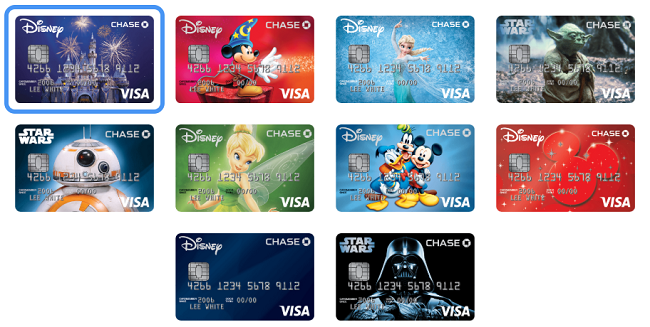 Card Designs
While this shouldn't be a selling factor on whether or not you apply for this card, the many unique card designs can add a "cool" factor to your Chase Disney Card.
Bottom Line
If you're an avid Disney fan and love going to their amusement park and don't already have this card, we really recommend getting it. Even if you're not a fan, the $200 referral bonus is a great selling factor. All you have to do is spend the minimum spending require of $500 in 90 days. On top of that there's no annual fee either. So in conclusion, we really recommend getting this Chase Disney Rewards Visa Card.