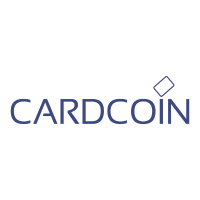 CardforCoin lets you sell your Starbucks, Target, and Walmart Gift Cards in exchange for Bitcoins. If you have a Starbucks, Walmart, and Target Gift Card with a value of $100 or less, you can get up anywhere between 60% AND 80% on your gift card value paid to you in a Bitcoin.
Simply visit CardforCoin and log in using your Twitter, Facebook, or Reddit account to get started.
What is CardforCoin?
CardforCoin was created by Matt Luongo, who is also the founder of Fold, a service that helps you spend your Bitcoin at large retailers. CardforCoin provides 60%-80 of the Gift Card Value in BTC. Receive your Bitcoin in 1 to 2 days. CardforCoin only serves in the U.S. and Canada.
How To Sell Gift Cards for Bitcoin
First, you must visit CardforCoin and enter your Gift Card number and pin. They will not store your gift card unless you accept an offer.
Next, CardforCoin will check your gift card balance and offer you BTC for the card, which is typical between 60%-80% of the balance, based on demand.
If you decide to accept the offer, CardforCoin will debit your gift card and send your BTC to the provided email or wallet address.
CardforCoin Referral Program
CardforCoin offers a referral program. Simply visit CardforCoin.com and click on the "Referrals" link at the top menu to access their referral program. Next, you need to enter your Bitcoin Address in order to receive access to your CardforCoin referral link. After that, you can share your referral link with your friends and family members to receive a Bitcoin bonus when they sell their gift cards to CardforCoin. You will receive a percentage of your referral's sale in the form of Bitcoin, which will automatically send to your Bitcoin address. Take advantage of CardforCoin to trade your Starbucks, Target, and Walmart Gift Cards in exchange for Bitcoins. You can also sell gift cards for dollars with services like Raise and Cardpool, which both include special new number bonuses.
Final Verdict: 
If you have a Starbucks, Target, and Walmart gift card that you do not plan on using, you might as well exchange them for Bitcoins. You can get anywhere from 60%-80% on the value of your card paid to you in Bitcoins. If you do not want Bitcoins, you can always sell your cards to other services like Raise and CardPool.