Capital One 360 Savings Account: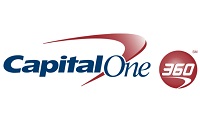 Available nationwide, Capital One 360 Savings is offering up to $500 bonus for new customers, tiered depending on your opening deposit valid until 9/30/2015. This bonus requires a pretty hefty opening deposit, but your account comes with a great interest rate of 0.75% annual percentage yield with no minimum deposit required. The Savings account has no monthly fee or minimum requirement.
Capital One 360 Quick Summary:
Availability: Nationwide
Maximum Bonus: $500
Direct Deposit Requirement: No
Hard/Soft Pull: Soft
Avoiding Fees: Capital One 360 Savings has no monthly fee and no minimum requirement.
Expiration Date: 9/30/2015 (11:59 pm EST)
Early Termination Fee: None
How to Earn $500 Bonus:
Open your first 360 Savings Account by 9/30/2015 at 11:59 PM EST.
To qualify for a bonus, your account must be funded within the first 10 days of account opening.
The bonus amount will be determined based on the highest amount you deposit within the first 10 days of account opening, then maintain the balance for the next 90 days to earn your bonus.
Tiered Bonus: Deposit $5,000+ earns a $50 bonus, $10,000+ earns a $100 bonus; $20,000+ earns a $200 bonus; $30,000+ earns a $300 bonus; $40,000+ earns a $400 bonus; and $50,000+ or more earns a $500 bonus. The maximum bonus you can earn is $500.
Final Verdict:
Capital One 360 Savings is one of the best financial products I would definitely recommend, especially with the chance to earn up to $500 when you deposit $50K in new funds. The 0.75% APY Savings account is fee-free with no minimum deposit requirement. Your Capital One 360 savings account is simple, secure and easy to use with their mobile app. Remember, the bonus is limited to one per primary account holder and will be deposited within 10-15 days after the 90 day period. Sign up today or find more Bank Deals from our exclusive list!