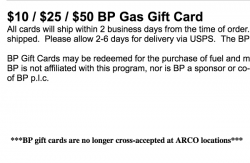 BP, also referred to its former name as British Petroleum, is one of the world's seven "supermajor" oil and gas companies. BP Gas gift cards no longer work at Arco gas stations. At some point within the past month or two, SVM Gift Cards on eBay added a note to their BP Gas gift card listing "BP gift cards are no longer cross-accepted at ARCO locations. This issue has occurred due to BP selling all of their ARCO stations in Southern California, Southern Nevada and Arizona to Tersoro. Tersoro licenses the ARCO-brand name back to BP for their use at ARCO-branded gas stations in Northern California, Oregon and Washington. You can find BP Gift Cards on CardPool!
What We Know: 
We aren't completely sure if this is already enforced or not, but a reader reports that it stopped working, system rejection. According to other readers, the gift cards stopped working this past year at newer Arco stations where the card reader was built into the pump itself. Also some people claim that the older BP Gift Cards can still be used since they were issued before the change of rule. Another reader claimed that BP will exchange BP gift cards for Arco Gift Cards if you simply call them and provide a BP Card with a receipt.
Final Verdict: 
Most Arco gas stations don't accept credit cards, only cash or debit, that way they can keep their prices down. However, this made using a gift card the sweet spot. You can in fact purchase these gift cards using a credit card and hopefully even with an occasional discount on eBay. Unfortunately, this method has been patched and currently does not work anymore. Check out great deals on BP Gift Cards!