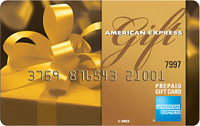 The American Express Personalized Gift Card is perfect for any occasion, this Gift Card features "Gift" embossed in gold. In the background, a gold-tinted gift card is tied with a fancy bow. Make it your gift special by putting your recipient's name on the Card, and even more special with a personalized message. Multiple personalized Cards in an order can be delivered to individuals address.
Why Purchase a Personalized Gift Card?
Purchase an American Express Personalized Gift Card to show your friends that you care about them by adding a personal touch. This helps ensure their enjoyment with a gift that's refundable in case of a loss or theft. Also, the gift card can be used wherever American Express Cards are accepted in the U.S. This card makes a great gift for your friends and family members.
What You Should Know:
The funds on your Personalized Gift Cards do not expire. No inactivity fees or other post-purchase fees. Receipts may obtain a free replacement after a Card's "valid thru" date passes by calling their Customer Service at 1-877-297-4438. Also, keep in mind that American Express does not ship Gift Cards that are purchased on this website to the states of HI and VT. Your Gift Card purchase can total up to $30,000.
Shipping
USPS order usually arrives within 10-14 business days. Rush orders will arrive within 6-8 business days. Business days include M-F and exclude the holidays weekends. Also, actual delivery times are subject to order information verification, custom product printing, and carrier transit timeframes. For security purposes, American Express cannot ship to P.O. Boxes, to APO/FPO addresses, or internationally.
How to use Membership Rewards Points: 
You can use Membership Reward Points to pay for part of or all of this order. To do so, simply choose the gift card that you want to purchase, use a Membership Rewards enrolled Card and pay for all or part of your purchase with points. A charge for your full purchase will appear on your selected American Express Card account. A credit will also appear, offsetting the amount of the purchase covered by points. Also, any points you use will be automatically and permanently deducted from your membership rewards account.
Terms & Condition
Fee-Free offers and Free Shipping offers valid with promotion code at checkout until advertised expiration date.
Offers cannot be combined.
Offers are only valid on americanexpress.com/gift and do not apply to National Parks, United Way, Children's Health Fund and Logo Gift Cards or Gift Cheques.
Purchase Fees or Shipping Charges may apply subject to terms of the offer.
Gift Cards or Business Gift Cards may be used at US merchants that accept American Express® Cards.
Final Verdict: 
The American Express Preferred Gift Card makes the perfect gift for your friends and family members. That being due to the fact that you can fully customize your gift by putting your recipient's name on the card and even put a personalized message. These cards are accepted at over a million places. Use them wherever American Express Cards are accepted in the U.S. Puerto Rico and the U.S. Virgin Islands. They are also replaceable and refundable. If  you card ever gets stolen or lost the remaining balance can always be refunded or replaced. To save money on purchasing these gift cards, you can purchase them using a cash back credit card such as the Chase Freedom Unlimited.