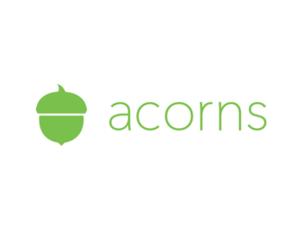 Acorns is an automated, robo-advisor investment tool linked to your debit and credit card. As you spend, it sweeps your change into a computer-managed portfolio.
Acorns is also set to launch a second platform called Acorns Later, used for retirement.
College students get the benefit of enjoying their first 4 years of Acorns for free. Simply sign up using a valid .edu email address. Other investors pay $1 a month and $2 a month for retirement investors.
If you're interested, be sure to sign up using our referral link! This link makes you eligible for their $5 referral bonus that can go towards any portfolio of your desire.
Pros
Free Management for College Students
Acorns goes after its target market — young, would-be investors who have little money to invest — by waiving management fees for up to four years for college students who register with an .edu email address. After the span of 4 years in college, a nice sum of money should be built up thanks to Acorns.
Automated Approach
Perfect for hands off investors, Acorns uses a robo-advisor that automatically manage clients money and places them in best outcome portfolios.
Minimum Investment
There's no minimum to open an account, but the service requires a $5 balance to start investing in one of Acorn's five pre-built portfolios.
Cash Back
Earning money off of saved money is great, but earning money from someone else's money is even better. Acorns is partnered with hundreds of companies to bring clients the chance to earn "cash back" on purchases made from them. This cash-back reward will be sent directly to the clients portfolio to be invested.
Beginner Friendly
Acorns platform offers new customers who are new to investing a way to learn and gain experience. The language is clear and easy to understand. Acorns also publishes Grow Magazine, an online personal finance site geared toward millennials with advice about side gigs, credit card debt, student loans and other financial topics.
Cons
Management Fee
Whether Acorns' fee is a pro or a con depends entirely on your account balance: Acorns costs $1 a month for taxable investment accounts and $2 a month for Acorns Later, which includes IRA accounts.
Small Portfolio
Like other robo-advisors, Acorns takes the investing reins from the user. The app considers your data — including age, goals, income and time horizon — and then recommends one of five portfolios that range from conservative to aggressive.
Bottom Line
Acorns is another automated, robo-advisor investment platform. However this one focuses on being easy to use and understand as well as oriented towards younger investors. The automatic roundups at Acorns make saving and investing easy, and most investors will be surprised by how quickly those pennies accumulate.
If you're interested in signing up, be sure to use our referral link! This link makes you eligible for their $5 referral bonus that can be used towards any portfolio of your desire!