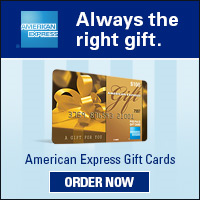 When buying American Express Gift Cards online there are usually two fees associated with these gift cards. The first is the purchase fee and the second being the shipping fee. Wouldn't it be ideal if you could get Free Shipping? Combining that with no fee gift cards would stack up on your savings. Today, I'll talk about Amex Premium Shipping Plan – Get free shipping for 90 days. Before we get into the details, let's discuss the advantages of buying online and why people choose that option.
Most people prefer buying online as apposed to brick and mortar stores because the Purchase fees are lower.  Online purchases start at $3.95 per card whereas Retail stores can start at $5.95 per card so there is a significant difference when you buy multiple cards.  Image buying 5 cards, would you rather spend $19.75 or $29.75? No contest right? The advantage is that you can get American Express gift cards online and avoid the Purchase fees completely by using the coupon code SUMPRC. Now, you will still have to contend with the Shipping fee. It is relatively low at $8.95 for expedited 2 day shipping, no matter how many cards you put in your cart so its a smart idea to make all your purchases at once to minimize this cost. Normally you can't use a code for no fee purchase and a code for free shipping at the same time. But there is a limited time free trail available to save shipping cost you should employ.
Amex Gift Cards: Premium Shipping Plan
Amex offers a 90 day free trial of their "Premium Shipping Plan".  Signing up for this will give you unlimited next-day shipping on all your orders. There is no limit to how much or how often you can use it.  There is an annual fee of $99 which goes into effect after the three month trial period expires.
Not all Amex accounts will be offered the Premium Shipping Plan, but there is a way to still try to apply for it.
Simply select either Personalized gift cards or Custom Message business gift cards.
Place into your cart and check out.
Sign into your American Express account.
From there go into the"Choose a Shipping Method" section.
Click on the 3-Month Free Trial. Offer is good for new subscribers only.
Buy Amex Gift Cards now with promo code SUMPRC for no purchase fees.
If you decide you no longer want to be enrolled in the plan simply log into you Amex account and cancel before the free trial period is up to avoid the $99 membership fee.
Sign into your American Express account.
Go to "View Your Order History"
Go to "Shipping Addresses" box. At the top right, you should see your Premium Shipping Plan information.
Go to "View" and select Cancel. If you don't see a cancel button, you can call a customer service representative at 1-877-297-443 and do so over the phone.
The beauty of Amex CG are that they can be used anywhere debit and credit cards are accepted or where you see the Amex logo. With Amex gift cards there are no monthly fees, no inactivity fees, and the funds don't expire. And remember to use credit cards that earn you the most points for to reach sign on or bonus point thresholds.  Read more about how to use your Amex Gift Cards.