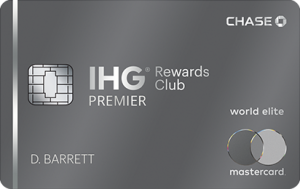 With the new IHG Rewards Premier Card, customers can earn a 80,000 point bonus when reaching the minimum spending requirement. This card also has the ability to earn 10 points per $1 spent at any IHG location. IHG has over 5,200+ locations worldwide.
Be sure to apply using our referral link in order to qualify for the 80,000 point bonus! 
If you're interested in what this card has to offer, continue reading below to learn more!

Your Bonus
As stated above, customers get a chance to earn an 80,000 point bonus whenever applying through our referral link. However, in order to qualify for the bonus, a spending requirement of $2,000 must be met in the first 90 days of account opening. Each point is worth roughly 0.5 cents each, so the total of this bonus is around $400!
These bonus points can be used on future hotel bookings at any of their 5,200+ locations around the world.
Card Overview
Receive an 80,000 bonus points after spending $2,000 on purchases within the first three months of account opening
Enjoy a Free Night after each account anniversary year at eligible IHG hotels worldwide. Plus, enjoy a free reward night when you redeem points for any stay of 4 or more nights
Get 10 points per $1 spent when you stay at an IHG hotel
Earn 2 points per $1 spent on purchases at gas stations, grocery stores, and restaurants. Earn 1 point per $1 spent on all other purchases
Platinum Elite status as long as you remain a Premier card member
Global Entry or TSA Pre® Fee Credit of up to $100 every 4 years as reimbursement for the application fee charged to your card
IHG Rewards Club Bonus points are redeemable at hotels such as InterContinental®, Crowne Plaza®, Kimpton®, EVEN® Hotels, Indigo® Hotels & Holiday Inn®
Earning Points
The new IHG card earns twice as many points than it's predecessor when staying at IHG locations. Sitting at 10 points per dollar spent, it's the perfect source of points when traveling. Additionally, 2 points can be earned for every dollar spent at grocery stores, gas stations, and restaurants. Lastly, 1 point can be earned for every dollar spent on other purchases.
Frequent travelers who stay at IHG locations frequently can earn most of their points from stays at eligible locations. Spending on average around $400 a month on stays at locations will earn roughly 48,000 points for that calendar year.
Benefits
The new IHG card is loaded with benefits suitable for travelers.
Free Night Certificate
On your account anniversary, a certificate will be sent to your account validating a free night stay some of their select locations. Locations must be kept under 40,000 points and be on their list of eligible locations. Despite this, it's always nice to get a free night stay at one of their locations.
4th Night Free Stay
Any bookings made with the use of points totaling up to 4 consecutive nights or more will receive their 4th night for free! Essentially, only 3 nights will have to be paid for. Combining this with the ability to make purchases at a 20% discount, you can reduce the cost of buying points well under the level required to be profitable.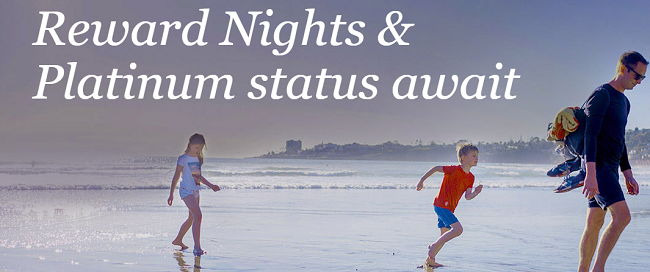 Complimentary Elite Status
Platinum Elite status does entitle members to a 50% bonus on top of base points and complimentary room upgrades when available, plus a few other perks. Cardholders receive Platinum status for as long as they hold the card.
Global Entry or TSA Pre✓® Fee Credit

The IHG Rewards Premier Card receives a Global Entry credit, up to $100 in value, every four years. Perfect for some customers wanting to skip long waits at airports.
20% Discount on Points Purchases
Purchases made by points earn a 20% discount. Combining this with some of their promotions such as earning a 100% bonus on points purchased opens up big opportunities. The ability to make huge savings through their rewards program is what makes this card so demanding.
Don't forget that the 80,000 referral bonus can be used on these discounted purchases. Be sure to sign up using our referral link in order to receive your points!
Bottom Line
All these benefits combine to create endless opportunities to make huge savings on your stays at their locations. Despite having an annual fee of $89, the free night certificate is enough to make up for it. When you include all the points earned through their program and discounts when making purchases with points, the savings will be unbeatable.
Don't forget that new customers can earn an 80,000 point bonus by signing up through our referral link! A minimum spending requirement of $2,000 in the first 90 days of account opening must be met in order to receive the points.