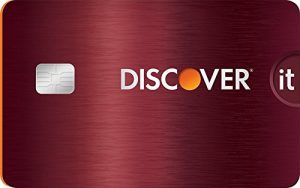 Featuring a first-rate 5% cash-back reward system with rotating quarterly categories, the Discover It card is definitely worth considering. However, it's worth noting that these rewards are not automatic and caps apply.
If you're interested in applying for a Discover It card, be sure to use our Referral link! This link will score you a $50 sign up bonus for you to use on anything you desire!
Basic Features
Cash Back

Introductory 5% cash-back rate on rotating quarterly categories

As of 2018:

Q1 2018 (Jan. 1 – March 31) Gas stations and wholesale clubs
Q2 2018 (April 1 – June 30) Grocery stores
Q3 2018 (July 1 – Sept. 30) Restaurants
Q4 2018 (Oct. 1 – Dec. 31) Amazon.com and wholesale clubs

1% cash-back on all other purchases

Annual Fee: $0
Introductory Bonus: Discover will match all cash-back made in the first 12 months of your account opening. For example, if you made $300 in cash-back, it will be matched for a total of $600 back!
Additionally, new card holders can earn a $50 bonus by signing up through a referral link!
Interest Rate: 12 months 0% APR on purchases and balance transfers

Quarterly Rotations
Throughout quarterly segments of the year, select categories are chosen for a cardholder to make purchases in. Any eligible purchases made in these categories will earn the cardholder 5% cash back with a cap of $1,500 on purchases. These rotations are not the same every year, but they can still repeat.
With some critical thinking, you can maximize your cash-back rates during the quarter. Enjoy and splurge a bit when trying out new restaurants during the restaurant quarterly rotation.
Why You Should Get This Card
One of the most attractive features of the Discover It card is the quarterly category rotation. With a hefty 5% cash back, it's easy to build up a nice reward for yourself at the end of the quarter.
Additionally, it comes with an annual fee of $0, you'd be hard-pressed to find another card with the same reward rates and annual fee.
Plan accordingly and max out each quarter to earn a $300 cash-back reward at the end of the year. And if it's your first year of being a card holder, Discover will match your earnings.
All these features and rewards combined make this a shoppers favorite.
Bottom Line
This card is definitely a must when it comes to beginner credit cards. The rewards rate is unbeatable compared to other cards with $0 annual fees. However, getting maximum savings and cash-back means putting in a little effort to reach it. If you're willing to work for your reward, then this is the perfect no-fuss card for you.
If you plan on applying for the card, be sure to do it through our referral link! This link will score you a $50 sign up bonus that you can spend on anything you desire.